Records have revealed that Executive Member of the Alliance For Change (AFC) and former Telecommunications Minister under the David Granger-led Administration, Cathy Hughes signed off on a number of contracts from her then Ministry to her own company.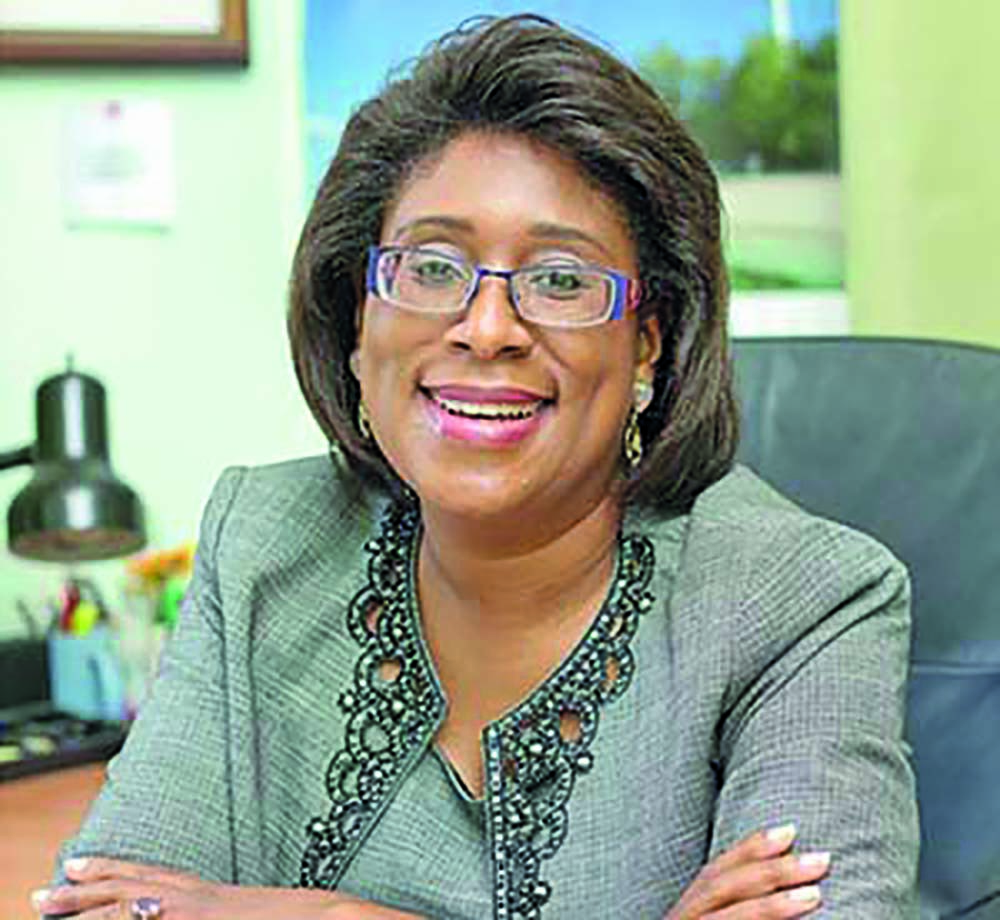 Hughes' company, Videomega Productions, has previously been in the spotlight owing to it receiving Government contracts. However, Hughes had previously claimed that after 2015 she relinquished all control of her company.
According to a tax invoice dated June 19, 2018, and seen by this publication, the former Minister and now AFC parliamentarian signed off on a number of contracts related to the company boosting the Public Telecommunications Ministry's Facebook page.
Contracts were dated January, February, March, April, May and June 2018. According to the invoice, payments became due upon the receipt of the invoice, which carried Hughes' signature, as well as the stamp of both Minister and Permanent Secretary of the Public Telecommunications Ministry.
In a breakdown seen by this publication, it was revealed that between 2016 and July 2018, the company received $6 million in payments from the Public Telecommunications Ministry. The first payment dates from 2016 and amounts to $1.137 million for ads.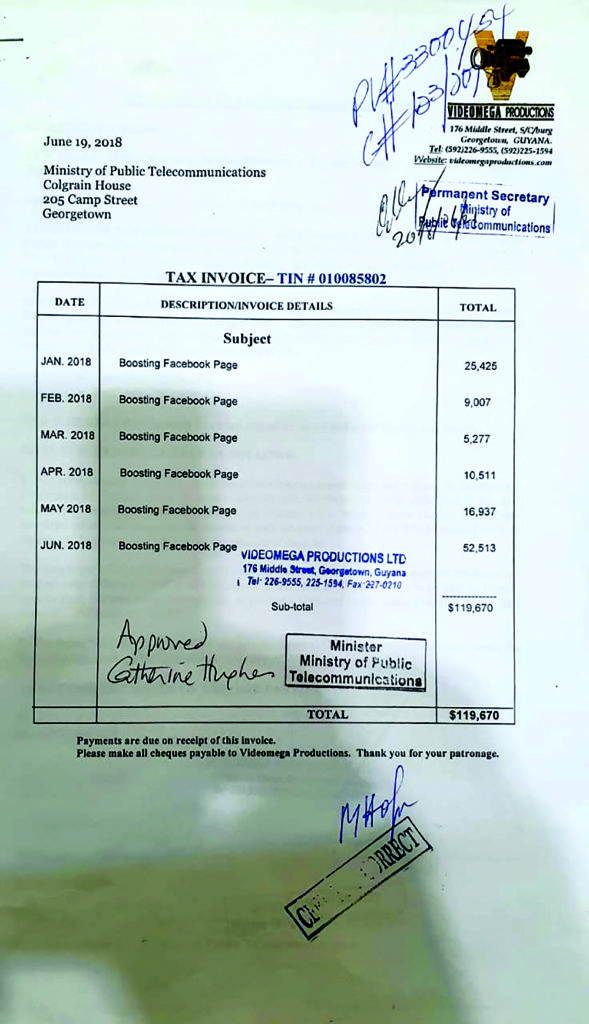 The company then received payments for television and radio advertisements during an unspecified period in 2017. But in December 2017, it received $68,400 in payments for the collation and transfer of footage for a Community Information Communication Technology (ICT) hub.
More contracts followed. On January 1, 2018, Videomega Productions received $956,519 in payments for the publishing of advertisements for ICT planning and education officers and business analyst, as well as an advertisement for a technical administrative assistant. With the exception of the assistant, all the ads were 8×38 in size. The ad for the assistant was 10×38.
The company got another payment of $119,670 on January 1, 2018, for boosting the Ministry's Facebook page. It then went on to receive a plethora of contract payments in the month of July 2018, amounting to $2.332 million in total and all pertaining to the Caribbean ICT Roadshow.
They include payments of $333,564 and $276,222 for 33-second radio and television broadcasts for the show. There was also a payment of $1.156 million for advertising, $235,980 for television and radio broadcasts and $287,052 for camera-ready artwork.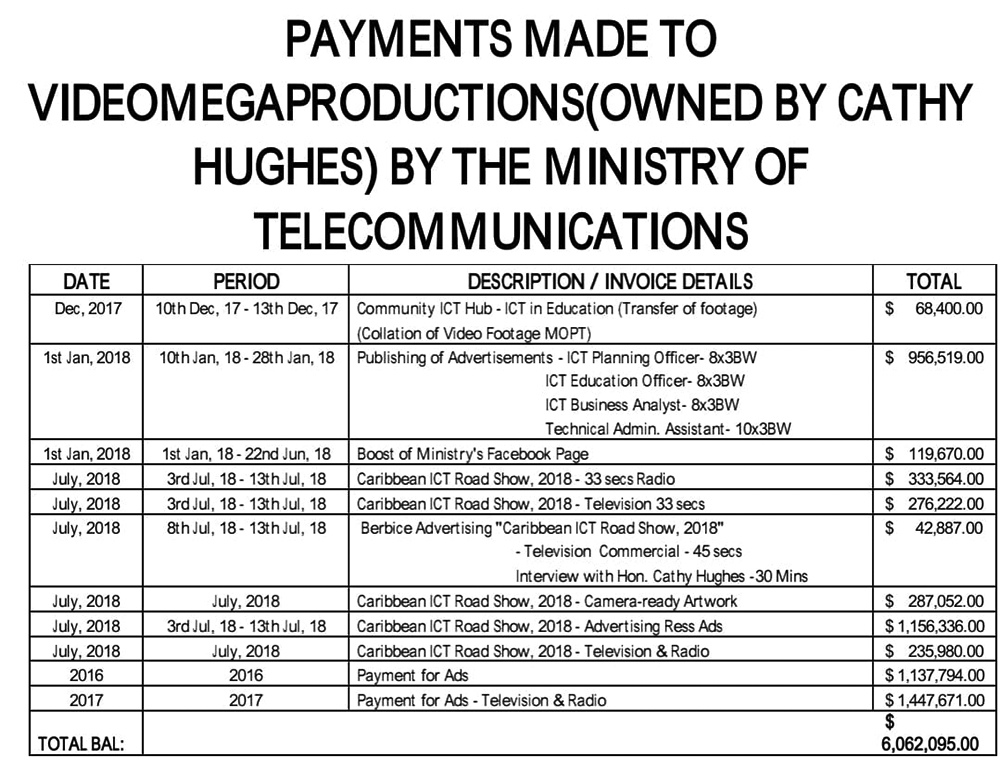 It had come to light back in 2019 that Videomega Productions had received contracts not only from the Public Telecommunications Ministry, but from several other Ministries. In fact, the company seemed to be the APNU/AFC Government's go-to company for video production and advertisements.
The company itself released several invoices for work it did to arrange advertisements for various Ministries. A total of $3.6 million was paid to the media houses, but according to Videomega Productions, all it pocketed was a 15 per cent agency commission totalling $481,577.
For instance, the Natural Resources Ministry commissioned Hughes' company to produce full-page full-colour camera-ready artwork that was placed in almost all the dailies on March 22, 2018. This cost $406,501.
Ads were also placed in all the dailies for the tobacco legislation media campaign, on behalf of the Ministry of Public Health, in October and November of 2018. These two campaigns cost $1 million each.
Videomega Productions further received contracts from the Energy Department to produce television Public Service Announcements (PSAs) for the department, which was coordinating preparations for Guyana's oil and gas sector.
It had been reported that the company was also contracted to produce brochures. It is unclear at this point in time what, if any, tendering process the then Minister's company went through to get these contracts.
When the transactions had come to light, Hughes had insisted that she played no part in the running of her company after 2015 and had no knowledge of the Government contracts it was receiving.
"In May 2015 upon my assumption of the role of Minister of Tourism, I relinquished any involvement in the day to day running of Videomega Productions. Russel Lancaster was appointed Manager and is responsible for the operations of the company. I have since been informed that the contract was for the production of three sixty-second television Public Service Announcements," the then Minister said in a statement in April 2019.
"The value of the contract is $832,200. The award of this contract was never brought to my attention neither would I have been aware of it in the normal conduct of the company's business," she had also said. Efforts to contact Hughes for a comment on the latest revelations were futile. (G3)