Former Prime Minister of Jamaica, Bruce Golding, will be leading an Electoral Observation Mission (EOM) from the Organisation of American States (OAS) to monitor the upcoming March 2 General and Regional Elections in Guyana.
This was revealed by OAS Secretary General Luis Almagro at the signing of a Privileges and Immunities pact between the agency's General Secretariat and the Guyana Government in New York.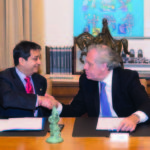 On Thursday Guyana's Ambassador to the United States, Riyad Insanally signed the agreement with OAS regarding the Privileges and Immunities that will be enjoyed by the Members of the OAS Electoral Observation Mission for the upcoming elections.
Ambassador Insanally, who is also the Chair of the Permanent Council and Permanent Representative of Guyana to the OAS, expressed appreciation on behalf of the Guyanese Government to the OAS for accepting the invitation to observe the elections.
In a statement on the OAS website, he also committed the full support of the Government and the people of Guyana to the EOM in carrying out its mandate.
"The Government of Guyana and the Guyana Elections Commission (GECOM) are committed to ensuring that elections are free, fair, transparent and credible," Ambassador Insanally noted.
Meanwhile, Secretary General Almagro pledged the full support of the OAS General Secretariat for the electoral process in Guyana. He also highlighted the Organisation's commitment to the development and strengthening of the democratic institutions and processes of member states.
"This includes the deployment of electoral observation missions in order to promote transparent and credible elections that are indispensable for stability, development and democracy in the region," Secretary General Almagro said in the OAS statement.
Golding served as the eighth Prime Minister of Jamaica from September 11, 2007, to October 23, 2011.
He also led a Commonwealth Observer Mission to the Maldives in April 2019 to assess the conduct of its parliamentary elections there. Golding had led a similar observer mission for the Parliament elections in the Maldives in 2014.
The OAS has observed the last five General and Regional Elections in Guyana between 1997 and 2015.
Already several international organisations have deployed EOM delegations to Guyana to monitor the upcoming polls. Among those here are the Commonwealth Secretariat, Carter Center and European Union (EU).
Many of the western nations with diplomatic presence here in Guyana have applied for domestic observer status. These include the United States (USA), the United Kingdom (UK) and Canada.