The woman who was killed by a speeding car at Moblissa, Linden-Soesdyke Highway on Wednesday evening has been identified as 27-year-old Parbatie Wilfred of Yarrowkabra Village.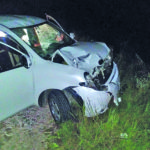 Police say the victim who was unidentified for some time has been identified by her brother. Reports are that the accident occurred about 23:30h in the vicinity of the Moblissa Public Road.
It was reported that the woman was walking along the roadway when she was struck by a motorcar bearing registration number HD 119 driven by a 50-year-old man of Amelia's Ward, Mackenzie, Linden resident.
The driver reportedly told Police that he was heading to Georgetown when he saw the woman crossing the road and into his path.
He told Police that upon realising that he might hit the woman, he applied brakes, but despite his efforts, the right front of his car collided with her.
She was reportedly tossed onto the bonnet thence to the front windscreen before hitting the road surface. The woman sustained severe injuries about her body and was picked up in an unconscious state by ambulance and taken to the Linden Hospital Complex where she was pronounced dead on arrival.
The car has since been impounded at Amelia's Ward Police Outpost and the driver has been in Police custody assisting with the investigation. Police said a breathalyser test conducted on the driver found that he was below the legal limit of alcohol consumption.
He is expected to be charged shortly.