In a colourful display intended to replicate the potential of eco-friendly mining, the Ministry of Natural Resources launched its Mashramani 2020 band.
The launching took place at the Indigenous Peoples' Benab, Sophia Exhibition Centre, revealing what the public can expect come February 23.
The Public Affairs Officer, Stephon Gabriel stated that the costumes depict sustainable mining.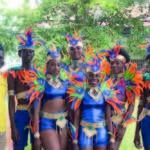 "Our costume will showcase that preservation, that sustainability aspect of the Natural Resources and you utilising them to the better of all Guyanese not only and we understand that mining and forestry extractions, we take from it but at the same time is to sustainability and we are able to provide information at inevitably time," Gabriel explained.
The costume designer, Nelsion Nurse, stated that the Ministry is incorporating colours to showcase Guyana raising the bar in eco-friendly mining.
"I honestly promise you is that the bands are going to create a stir, especially with Natural Resources. We did a lot with the more colours and we are playing a lot with colours. I know a lot of people will expect because it is our Republic Jubilee and they will expect national colours and patriotic and we would love to do those things but because of the concept and we are promoting eco-friendly we decided to use colours that would bring our concept to life." Nurse added.
Also in attendance was the MNR Administrator, Beverly Alert, who noted that this is a significant period in Guyana.
"Today (Friday), 50 years on, you might want to say we have grown and indeed we have. But we are still a very young nation, and at this point in time, 50 years after achieving Republican status, our country is set for unprecedented growth."
This year, the Natural Resources Ministry is collaborating with various entities under its remit such as the Guyana Geology and Mines Commission (GGMC); the Guyana Gold Board, and the Guyana Forestry Commission.
The Ministry's band will join the several other Government agencies as well as private organisations to celebrate the 50th Mashramani parade.
The theme for this year's celebration is "Guyana Together – Reflect, Celebrate, Transform".