Commuters using the water taxi service at the Vreed-en-Hoop Stelling have called for immediate intervention into the availability of multiple boats during peak hours, as many are forced to wait for a prolonged period of time.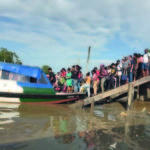 Guyana Times was informed recently of the struggles faced, especially in the mornings, to enter one of the speedboats. During a subsequent visit, commuters complained that only one vessel is allowed to load at once, creating a crowd of persons. This "unorganised' setup has caused persons to stand in a large group for an extensive period of time.
One woman, who requested anonymity, told this publication, "I ain't able with this crowd. Everybody just pushing because only one boat loading and what we gonna say, we got to wait. I waiting here and it ain't get no line or nothing. Everybody just rushing when another boat come up and I frighten I fall".
While others around vented similar cries, they called for the authorities to implement a holistic approach to cater for the increased number of commuters.
"They can't use the old system when so much people, school children all gotta get over with the boat. It wasting so much time. They got make more boats load one time," another said.
Apart from the operations in the area, there have been numerous complaints about the structural integrity of the stelling.
Last October, the dilapidated structure came under criticism the morning after an elderly woman lost her balance and almost fell into the Demerara River.
The situation escalated since there were no railings for support, coupled with unsteady stairs.
It is customary for everyday commuters to lament about the structure, which is highly unsafe for young children and the elderly. However, the incident saw many persons fuming over the unsafe structure, which could contribute to bigger problems.
The stelling, made primarily of timber, is equipped with two stairwells – one which extends to speedboats that are loading while the other facilitates boats to offload passengers.
The Public Infrastructure Ministry had announced an overhaul of the structure, which is in dire need of a facelift but no major repairs are forthcoming. This newspaper was told that last year, a few planks were changed during the rainy season.
At that time, commuters were under the impression that the much-needed rehabilitation was underway. However, only the fragmented segments were changed to prevent any accidents.
Meanwhile, taxi drivers and other vendors have long complained about the other sections, which are in an even worse state. When it rains, the roof leaks at numerous spots, damaging clothing, shoes and other products. Additionally, petty crimes have escalated as a result of minimal security at night.