After almost over one year of evading Police, 47-year-old Gary Blackman, also called "Nick-Knock", was on Friday hauled before the Georgetown Magistrates' Courts charged with the murder of Darren Edwards, called "overdose".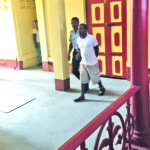 An unrepresented Blackman appeared before Chief Magistrate Ann McLennan and was not required to plead to the indictable offence which stated that on December 21, 2018, at Hadfield and Breda Streets, Georgetown, he murdered Edwards.
The accused, of Lot 3415 Stevedore, Housing Scheme, was remanded to prison until February 20, 2020.
It was reported that Blackman went to visit the home of his lover where he discovered the now-dead man in bed with the woman.
As such, an argument ensued during which the accused armed himself with an ice pick and dealt Edwards several stabs about his body.
The injured man who attempted to escape ran out of the house on to Breda Street as the accused gave chase. The accused managed to catch up with the now-dead man and inflected several other wounds to his body.
The injured man was picked up in an unconscious state and taken to the Georgetown Public Hospital Corporation (GPHC) where he was pronounced dead on arrival.
The court was informed that after the incident, Police ranks were unable to locate Blackman until recently when he was arrested and taken to the Ruimveldt Police Station where the charge was instituted.