– Plaintiff to receive 2,498 monthly pension
By Shemuel Fanfair
Five long years after Maurice Arjoon, the former Chief Executive Officer (CEO) of the New Building Society Limited (NBS), took his past employer to court, he has finally been awarded more than $79 million in outstanding payments and benefits; and the court also ruled that he should be paid a monthly pension of $372,498.
The court's computation follows the decision of Justice Brassington Reynolds, who on Thursday ruled in favour of Maurice Arjoon.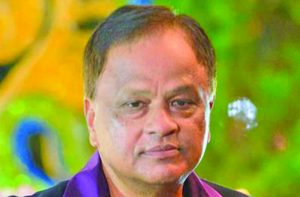 Arjune had sued the NBS for some $550 million in damages on the following grounds: that he had been wrongfully dismissed from his post, and that his former employer had withheld pension and other benefits due him.
In its computation, the court did not award monetary damages for breach of contract under common law, but Arjoon was awarded $4.1million for pay in lieu of notice, in accordance with Clause 10 of his contract; $16.1million for severance benefits; and some $59 million for pension — which subsumes a lump sum pension of $17.4 million and reduced pension payments of $372,498 up to June 2017.
The court's computation of payments that Arjoon will receive reflected a grand total of $79,282,801. Interest has been calculated at 6 percent per annum on pay in lieu of notice and severance benefits, while his outstanding pension has attracted a 6 percent per annum rate of interest from March 1, 2008 to the date of judgment (July 17).
According to the court's declaration, the plaintiff is entitled to a monthly pension. As such, the court ordered that, effective July 1, Arjoon must be paid a monthly reduced pension of $372,498 for the rest of his life. Additionally, court costs were set at $200,000, and the NBS was ordered to foot that bill.
Former NBS CEO Maurice Arjoon was fired from his position ten years ago in connection with a magistrate's court matter wherein he, NBS Operations Manager Kent Vincent and NBS Assistant Mortgage Manager Kissoon Baldeo were all accused of conspiracy to defraud the NBS of $69 million. The court matter was eventually dismissed, and Arjoon and the co-defendants took the financial institution to court in 2011.
An investigation had claimed that the fraud was committed in 2006, and the men were all fired the next year, after it had allegedly been determined that the men were at fault for dereliction of duty, negligence and/or serious misconduct.
The NBS had contended that an unauthorised withdrawal of nearly $70 million had been made from an account that its client Bibi Shamina Khan held. The NBS's issue with the withdrawal was that it was made through a Power of Attorney, and the company had implicated Arjoon for misconduct.
However, in the court's view, the NBS had failed to provide evidence that supported its claim of misconduct, whether serious or otherwise.
Declaring himself sick, Arjoon has said he believes he was set-up on the fraud allegations because he allegedly had refusal to approve a loan of some $2 billion applied for in 2006. He claims the investigation into the fraud allegations was conducted later that same year, implicating him as CEO, as well as the co-defendants.
Having been dragged out for more than five years, the High Court matter was listed for decision on November 29, 2016; but it was only after repeated articles in this regard had appeared in the media that the court handed down its ruling on July 17.
At Monday's decision, Justice Reynolds indicated in effect that Arjoon had suffered as a result of his wrongful dismissal from the NBS.
Accordingly, he ruled that the former CEO should receive financial compensation for the damages he had suffered; and moreover, that he was entitled to his pension and severance benefits, in accordance with provisions stipulated in the laws of Guyana.