…questions de facto President's integrity
Former Information Minister under the People's National Congress (PNC) Administration, Kit Nascimento has called out caretaker President David Granger on his flip-flopping attitude in relation to sticking to his commitments to adhere to the Constitution, rulings of the court and declarations of the Elections Commission.
Nascimento, in a letter to the editor on Friday, said it is either that Granger delivers on his word, shut his lawyers down, shut his party acolytes up, tell his Campaign Manager Joseph Harmon to shut up, or shut up himself. He added that Granger cannot enjoy the benefit of making commitments and then having his cabal do everything possible contrary to those commitments.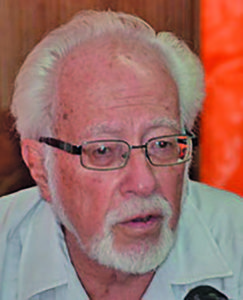 He explained that he was caught by surprise when Granger faced the media following the commission of the Infectious Diseases Hospital on Friday.
The caretaker Head of State told the press that "with respect, my statement on compliance with the declaration wasn't conditioned. I didn't say if the rain is falling or the sun is shining. You know, if it comes by day or by night, I am obliged to observe the declaration of the Chairman of the Elections Commission."
Nascimento identified that this is not the first time the PNC Leader has pledged his word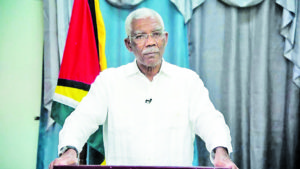 speaking as President and Leader of the governing APNU/AFC, that he will honour the decision of the Chairman of GECOM.
His exact words before were: "as President of Guyana and Leader of the Government, it is my policy that any declaration comes from the Chairman of GECOM would be recognised by the coalition Government".
"We know, however, that since Granger made that pledge, his coalition party agents, his coalition party lawyers and his Attorney General, have gone to every court, the High Court, the Appeal Court the Caribbean Court of Justice to argue that the Recount Order (60) is illegal to prevent GECOM from using the Statements of Recount to declare the results of 2nd March Elections. Granger's lawyers in contradiction with Granger's pledge, have even argued that the Chairman of GECOM is obligated to accept the fraudulent Lowenfield/Mingo report to declare Granger as President," Nascimento stated.
He questioned how Granger can be trusted now if he was not to be trusted then. He reminded that the courts have, once again, thrown out the baseless arguments by the coalition and directed that only the recount data must be used by GECOM to determine the declaration of the elections.
"I ask the question again, in all sincerity, can anyone, at any time, anywhere, believe anything which Granger says or to which he pledges his word?"
On Thursday, Granger, when further pressed by the media, said "I have been saying over and over again that I will abide by the declaration by the Election Commission. I will abide by the rulings of the court…. Once the court has finally ruled, we would obey the ruling of the court".
In that regard, Nascimento posited that if Granger – who is still serving as President and the Leader of the coalition Government and the APNU/AFC – is to be believed and his word to be trusted then nothing further should be done or said by anyone under his authority to prevent GECOM Chair Claudette Singh from immediately convening a meeting of GECOM and making a declaration. He added that if Chief Elections Officer, Keith Lowenfield refuses to comply with the instructions then he should be immediately dismissed with no opposition from the Government.
He noted that Granger's lawyers, however, are indicating an interest in a further appeal and are unwilling to abide by the court's ruling in direct conflict with his own words.
Already too, Granger's party manager, Harmon has refused to accept the ruling of the court and repeated the APNU/AFC refrain that "fraudulent votes cannot be the basis for a final declaration to be made. This is our firm position".
Worse, according to Nascimento, Harmon presumes to direct that "we can still get out of the Chairman of the Elections Commission a declaration that is based on valid votes and no fraudulent vote. We remain very confident about that."
He further questioned as to who the Guyanese people should believe and whether "Granger is lying again."
Despite Granger committing to adhering the declarations of the Commission, his actions are contradictory. He, along with Opposition Leader Bharrat Jagdeo, agreed to a National Recount of the ballots since the controversy with District Four declarations. They called in Caricom to oversee the recount but before that could have gotten off the ground, Granger's candidate, Ulita Moore, challenged the process in court.
She, supported by another candidate – Roysdale Forde, contended that the recount was illegal. That was thrown out by the court and the recount went ahead. During the recount process, Granger's agents went on a fishing expedition, pelting allegations of voter fraud wildly with no evidential support.
That fishing expedition was supported by Granger when he echoed the same allegations without offering any proof. (G2)