…loss could amount to 10 million barrels by 2030 – Rystad
Oil-giant ExxonMobil has sternly warned that Guyana is on the verge of losing significantly on the Payara-Pacora project off its Stabroek Block if the elections impasse remains unresolved.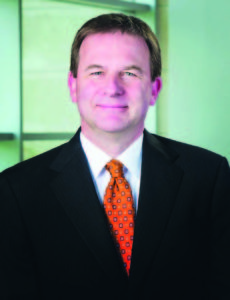 This was the position shared by the company's Senior Vice President, Neil Chapman, during their second quarterly report for 2020. He noted that the absence of a legitimate Government puts serious values at stake for the country – which is yet to witness any rewards from its prolific oil boom.
"We're continuing to work with the Government on approval for the Payara development plan. Without final resolution of the election results and signing in a new Government, the risk of potential puts delay to the schedule. Having said that, it is very clear that all parties in the country understand the importance of progressing the developments quickly, given the significant benefits to all stakeholders, especially the citizens of Guyana," Chapman asserted.
He cautioned that as long as the impasse continues, they cannot move forward with an approved development plan and the Final Investment Decision (FID). If it comes in later than September, weather conditions could affect operations, causing Guyana to lose significantly.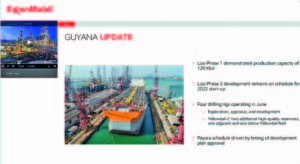 "It is very simple. Everything we and the partners can do to progress Payara on schedule, we are doing and we've done…We need to be ready to move as soon as the Government is ready and we are ready. We need an approved development plan and that approved development plan needs to come from the Government…It's very important that we have this development so that that we can FID in September timeframe. There are weather conditions that if you miss a certain window it could result in delay of some months," Exxon's VP reiterated.
With five months already expended on their wait for a Government to be elected, it was noted that talks are continuing with caretaker President David Granger and the leading Opposition, People's Progressive Party. According to him, the coalition Administration is aware of the consequences attached to a continued delay of the electoral process.
Many international stakeholders and observer teams have been lobbying for a declaration to be made using the recount results, which shows a win for the PPP/C, with 233,336 votes cast in its favour. The APNU/AFC secured 217,920 votes.
"We're waiting for a resolution like everybody else of the election…What we know is that all parties in Guyana want to progress this development. Of course, we're in regular contact with both President Granger and the APNU/AFC coalition and we're also in discussions with the PPP and Dr Irfaan Ali…What we continue to stress to the Government is that if the project does get delayed, it's a loss of value to the country. It's very, very clear. The Government understands that" the Exxon official positioned.
This announcement comes just after a recent report by Rystad Energy highlighted that prolonged delays will result in a decrease of the country's planned oil revenues, the asset's net present value (NPV) and its expected production.
It said the Payara project, which was expected to rake in billions of dollars to Guyana's GDP, could face tremendous financial losses after being plagued with delays. However, it is clear that the prolonged political uncertainty could further impact the next project offshore Guyana.
"We have looked at four potential scenarios with delays ranging from three to 24 months. Our analysis shows that Guyana may lose around 10 million barrels of oil that could be produced from the project by 2030 presuming just a three-month delay, a number which climbs to around 75 million barrels assuming a 24-month delay."
Rystad Energy's Senior Upstream Research Analyst, Palzor Shenga added, "Approval delays for Payara-Pacora could have a domino effect on numerous other projects in the Stabroek Block. This would, in turn, have a substantial impact on the investments made in Guyana, thereby also dragging down job creation and GDP generation in the country."
ExxonMobil has identified Payara as the third potential development project within the Stabroek Block after Liza Phase 1 and 2. The Payara discovery was announced in January 2017.
The discovery well was drilled in a new reservoir, encountering more than 29 metres of high-quality oil-bearing sandstone reservoirs.
The Payara development plan includes a floating production, storage and offloading (FPSO) vessel, named Prosperity. It is expected to produce 220,000 barrels per day, supporting up to 45 wells, including production, water injection and gas injection wells.
Exxon said in its latest report that they are still investing in Guyana with four drilling rigs allocated as of the end of June – one on exploration and three on appraisal and project development drilling.
Subsequent to the quarter end, drilling at Yellow Tail Two identified two additional high-quality hydro-carbon bearing reservoirs – one adjacent and one below the Yellow Tail field. Meanwhile, Liza Phase Two remains on schedule for 2022. (G12)