…says Govt aware of situation
…new REO given desk in regional boardroom
The former Regional Executive Officer (REO) of Region Two (Pomeroon-Supenaam), Rupert Hopkinson, is refusing to leave the office and formally hand-over duties to the new REO, Dennis Jaikarran.
According to the Regional Chairman Davanand Ramdatt, the new REO Dennis Jaikarran took up office as of January 1, 2019 and is operating on a desk in the regional boardroom while Hopkinson still occupies the REO's office. The Chairman added that although instructed to formally hand over the office to Jaikarran, Hopkinson is reluctant to do so.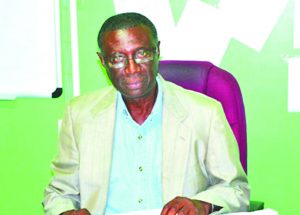 This has resulted in the newly appointed REO calling for a formal handing over to familiarise himself with the region's assets, finance and incomplete works among others.
The Regional Democratic Council (RDC) has condemned the attitude of the former REO and is calling for an immediate handing over of the REO office which would allow the region's work to continue.
This newspaper was told that the former REO still visits his office and is still instructing workers. A source related that the former REO is also refusing to give up the state house in Cotton Field.
According to the Regional Chairman, Hopkinson was informed by way of a letter dated November 27, 2018, of his replacement, sent by the Communities Minister, Ronald Bulkan. The Regional Executive posited that the former REO was given enough time to put things in place for a smooth transition.
The RDC is fearful that the delay by the former REO to hand over duties to the new REO might be a well thought out strategy. The RDC is calling on Hopkinson to be a "gentleman" and immediately hand over the office to the new REO and let the region's business be given priority over petty matters.
When Guyana Times contacted the former REO on Saturday, he said that the region along with the Communities Ministry is fully aware of the delay which caused him to remain in the office.
"There have been certain things that have precipitated a delay in the handing over and the Ministry knows that and Mr Jaikarran knows that," he noted. Hopkinson has been appointed as an advisor for the Communities Ministry.
"I have got a Ministry appointment from the Ministry of Communities in the Regional Agriculture Development so I'd be happy to take it up so there is no question…you can find out from the Ministry of Communities what my new assignment is," the former REO added.