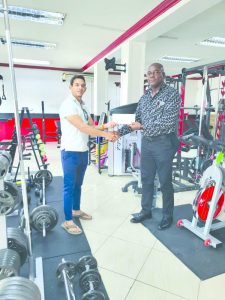 Powerlifters who made their mark at the Novices competition earlier this year will be aiming to take their careers closer to the senior level when they step on the platform for this year's edition of the Guyana Amateur Powerlifting Federation's (GAPLF's) Intermediates and Masters Championships.
This year's competition will, for the first time, take place at the Chase's Academy Auditorium on Parade Street, Kingston just opposite the Theater Guild.
Yesterday, longtime GAPLF supporter Jamie McDonald, Owner and Manager of Fitness Express at John and Sheriff Streets, Campbellville, made a monetary contribution towards this Sunday's event.
In handing over the contribution to GAPLF President Franklin Wilson, McDonald said he was very pleased to be maintaining a proud tradition of supporting sports development.
"I am really happy to be once again throwing Fitness Express' support behind this sport. I've known you for a very long time, and am happy to see you now taking up the challenge to lead this sport. You can be assured of our unflinching support for our athletes and the strengthening of the sport. We wish every athlete and your Federation every success on Sunday," he declared.
In responding to McDonald, Wilson noted that he was happy to take up the mantle, and recalled that ever since Fitness Express opened its doors for business in Guyana, over a decade ago, it has been backing powerlifting every year.
"This current executive, which I am proud to lead, would like to applaud you for your committed partnership over the years. I recall covering so many presentations you've made to the various presidents, and now I am at the helm of a sport which I've been associated with since its rebirth under Peter Green, over two decades ago.
"On behalf of the executive and members of the Federation, I would like to express sincere thanks for your continued generosity, which will go a long way in making this event a success."
Wilson has also informed that he and McDonald are in talks to pursue other avenues wherein athletes can benefit even more from Fitness Express. Details of the initiative will be forthcoming in the not-too-distant future.
The GAPLF would also, on Sunday, be hosting a fundraising bar-b-que at the competition with a view to raising much-needed funds.