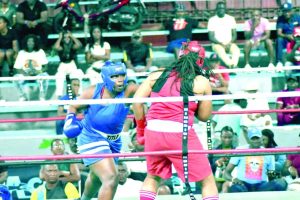 Ahead of its June 3 competition date, the amateur section of the impending and highly anticipated 'Return of the Scorpio' pro/am boxing extravaganza has been set in stone. The pro/am card's amateur segment will witness both male and female persuasions in action at the National Gymnasium on Mandela Avenue in Georgetown.
The confirmed amateur bouts read: Akeelah Vancooten vs Tafina Barker [51-54kg]; Isaiah Joyce (PPBG) vs Jamal Jones (VBG) [57-60kg]; Dexter Ray (Police) vs Shaquain James (FYF) [60-67kg]; Alesha Jackman (Guyana) vs Britney MacFarlane (Jamaica) [63-69kg]; and Abiola Jackman (Guyana) vs Lee Ann Boodram (Trinidad and Tobago) [81+kg].
Meanwhile, the respective Jamaica and Trinidad and Tobago contingents are expected to arrive on June 1st, ahead of the June 2nd weight-in and pre-match press conference.
"The amateur section has been officially confirmed, and promises several exciting salvos, especially those of the international flavour. This fight card provides a synergistic approach to development, as amateur fighters, several of whom will be experiencing such a novel atmosphere, and professional pugilists can share the same ecosystem despite the obvious differences in their career paths. That is the immediate tangible benefit of such a fight card," Guyana Boxing Association (GBA) President Steve Ninvalle shared about the bouts.
He added, "While any form of deferment can be deemed as an unfortunate episode, the additional wait has only added to the anticipation and excitement of the fight card. It has provided an avenue for increased marketing and publicity, an element of importance that should not be understated or underestimated. More importantly, it has also provided an opportunity for an increased training window for our combatants, which only adds to and aids in their performance on the night."
The 'fight night' was rescheduled from its initial date of May 21st due to Colombian pugilists Ronald Ramos and Luis Carillo failing to attain the requisite documentation to travel to Guyana. This was confirmed by the organizers, Briso Promotions.
All tickets purchased remain valid for the rescheduled date, and the fight is at the same venue. Tickets can still be purchased at the sole location of Hot & Spicy Creole Corner. The prices are: VVIP $10,000, VIP $6000, Ringside $3000, and Stands $1000.
The 'Return of the Scorpio' pro/am card is regarded by many experts as the largest fight card in more than a decade, and is expected to surpass the overall quality of the critically praised Patrick Forde Memorial Championships, which is the yardstick for a local boxing event.
Five exciting professional bouts will be headlined and co-headlined by Elton Dharry and Dexter 'De Kid' Marques respectively, and an amateur section of equal measure is confirmed for the evening.
Dharry will make his return to the squared circle against Ronald in an eight-round Bantamweight fixture, while Marques will engage Carrillo in an eight-round Super Bantamweight encounter.
A Caribbean rivalry will also recommence as local star Terrence Adams will battle Ricardo Blackman of Barbados, while Anthony Augustin will face off against Barbadian Emmanuel Anderson. The card will also feature a six-round Super Flyweight bout between females Natalya Delgado and Darianis Garcia.
In the amateur segment, Jamaica's Britney MacFarlane is the confirmed opponent for local star Alesha Jackman in the marquee encounter, while Trinidad and Tobago champion Lee Ann Boodram will enter the squared circle against Abiola Jackman, the sibling of Alesha.
The sisters are the first-ever Guyanese female pugilists to attain a world ranking from the International Boxing Association (IBA), after their participation at the Women's World Championships in New Delhi, India.
Abiola Jackman is now ranked 27th in the world in the Elite Women 81 and over Kg, or heavyweight division, while Alesha is seeded 58th in the Elite Women 60-63 Kg or junior welterweight division.