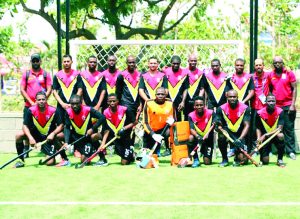 The Guyana Hockey Board (GHB) has selected a 16 member men's team to represent this country at the Central American & Caribbean Games, scheduled from June 26th to July 6th, 2023.
Although El Salvador is the main host of the Games, the hockey aspect of the multi-sport event is being staged in the Dominican Republic, which has just constructed a new water-based artificial turf to host the next CAC Games in 2026.
The Guyana team will be looking to better their 4th place finish at the last CAC Games in 2018, where they narrowly lost 0-1 to eventual gold medalists Cuba in the semifinals. The team will be relying heavily on the experience of the only five surviving players from that 2018 team: Robert France, Jamarj Assanah, Andrew Stewart, Kareem McKenzie and Meshach Sargeant, but will be bolstered by five outstanding youngsters fresh from representing Guyana at the Junior Pan American Championships in April this year. Shaquon Favorite, Shakeem Fausette, Simeon Moore, Oshazay Savory and Tahrea Garnett will add a youthful spark of energy and pace to balance the experience and composure of the seniors.
Team Guyana's first match will be against the Group B top seed Trinidad & Tobago on June 28th, followed by the Dominican Republic on June 30th, before facing defending gold medalists Cuba on July 2nd. They will have to finish in the top two to progress to the semifinal against either the winner or runner up from group A, which includes Mexico, Barbados, Jamaica and El Salvador.
Speaking on his expectations of the team, Head Coach Robert Fernandes said, "It will be a tough task to get out of the group. Although we placed above both Barbados and Jamaica at the last CAC Games, we are now ranked below them because of our inactivity on the international stage since 2018. So that's how we were placed in Group B with two of the top three finishers from the last CAC Games.
"I think the boys are up for the challenge though. Although we're missing some key players through injury, I think this group has the ability to better our 2018 performance if we play to our potential."
The team will be managed by former national captain Marisha Fernandes, with Robert Fernandes and John Abrahams fulfilling coaching duties, and former national Rugby captain Theodore Henry functioning as physical trainer/physio.
This Guyana Team reads: Paul D'Andrade, Andrew Stewart, Dominic Alleyne, Edmond Chinian, Jael Gaskin, Jamarj Assanah, Kareem McKenzie, Meshach Sargeant, Orland Semple, Oshazay Savory, Robert France, Shakeem Fausette, Shaquon Favorite, Simeon Moore, Tahrea Garnett and Troy Hodge.
Standby Players are David Williams, Jason-Ray Khalil, Shomere Garnett and Vladimir Woodroffe.