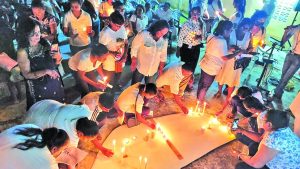 In solidarity with the families of victims and survivors of the deadly Mahdia Secondary School dormitory fire, the community of East Canje, Region Six (East Berbice-Corentyne) held a vigil on Wednesday evening.
The trauma the victims may have suffered and the pain being felt by their parents and siblings was one of the focuses at the vigil.
Prayers were offered for the bereaved family members and the many injured students.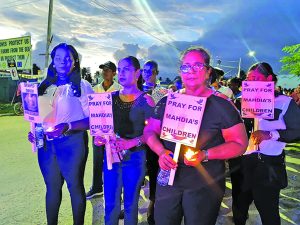 The vigil, which was organised by East Canje Humanitarian Organisation, was held at the Veda Centre.
President for the Guyana Centre for Civic Engagement, Pandit Deodat Persaud said they were motivated by the sentiments of others.
"Our presence here this evening is saying that while we don't know each other personally and we don't know the children, we feel and mourn with you."
He noted that this was the second most tragic post-Independence incident following the November 18, 1978 Jonestown Incident during which 914 persons lost their lives.
Focusing on the survivors, Persaud said the organisation has been praying for them.
Several tributes were made in song and spoken word.
Persaud pointed out that the sad incident would forever be associated with Guyana's Independence observances.
Meanwhile, in Region Two (Pomeroon-Supenaam), the Education Department held a candlelight vigil on Monday evening.
Persons converged for the vigil at the Anna Regina Car Park.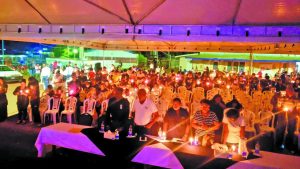 Representatives from Region Two Department of Education and Regional Democratic Council, teachers of various schools along the Essequibo Coast, friends, and residents stood shoulder to shoulder holding candles as they marched from the Anna Regina Car Park to the Department of Education in the children's memories.
Regional Education Officers said that they were saddened by the horrific deaths of the 19 children. They also observed a minute of silence for the children.
Representatives of the Department of Education walked as they held pamphlets marked "Pray for Mahdia's Children" and candles to illuminate the journey. Vigils were held in other Regions One (Barima-Waini) and Nine (Upper Takutu-Upper Essequibo) communities.