As one more day remains before the Guyana Amateur Powerlifting Federation (GAPLF) promises to illuminati the Saints Stanislaus Auditorium on Brickdam when they host the 2018 edition of the Senior National Championships, which is set to commence at 10 am.
From this competition, athletes will be vying for the top prize of being selected for the 2019 National Team.
Thus far, 26 athletes have been confirmed for the event, of which 6 are females. The 84+ kg event will feature Natoya Robinson and Runita White as the main attraction for the female category.
Athletes participating in 'Flight A' are expected to be at the venue for 8:00 am for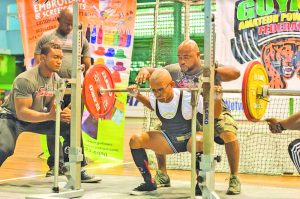 the weigh in, as that would last no longer that 9:30 am, while the athletes from 'Flight B' are expected at the weigh-in at 11:30 am sharp.
The competition will also feature Guyana's oldest active body builder, 70 year old Noel Cummings as he will be aiming to best his performance in May 2018. Also competing in the competition are Vijai 'Ants Man' Rahim, 2018 Novices Overall Champion Timothy Bagla, The PowerPuff Girls Grace and Blossom Babb, 2018 NAPF Overall Champion Carlos Petterson, Junior 93 kg sensation Bishen Sasenarine, Jack Tony, Christopher Sookdeo and Hardat Darson.
Tickets cost $1,000, and can be purchased directly from GAPLF executive members, or from Buddy's Gym. The entrance fee at the gate will be $1,500. Breakfast will be on sale
Entities on board thus far are Buddy's Gym, Fitness Express, Trophy Stall and Dyna's Embroidery.