Hamilton Green 9-a-side Inter-Ward/Village KO Cup…
For over two decades, the month of December has been littered with heightened football activity, and this year's Hamilton Green 9-a-side Inter-Ward/Village KO Cup definitely contributes to this development.
When play in this competition resumes tomorrow at the Den Amstel Community Centre ground on the West Side, it will add to the excitement to which football fans have become accustomed in the final month of the year.
In the opening fixture, to be played from 17:00hrs, Wales — having in their line-up the likes of Quincy Ashley, Rolando Thomas, Alexander Clark and Sharmea Jones — will lock horns with the star-studded Charlestown lineup, whose quest for a win will rest of the performances of Jamal Cozier, Devon Charles, Kareem Knights and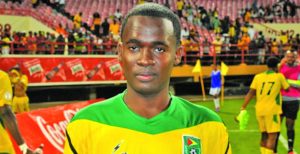 Curtez Kellman.
In the game to follow, Sophia tackles Sara Lodge, and the Smith combination — which includes Ernie, Peter and Simon, along with Jason Clarke — will lead the Sophia charge for victory; while Jalen Williams, Stephon Griffith, Seam Miller and Denzil Smith will aim to do the same for Sara Lodge.
Goed Fortuin then go up against Central Mackenzie, and this match promises to provide plenty action for the fans.
Central Mackenzie's ambition to advance will rely on the performances of players such as Seon Barrett, Marvin Sullivan, Orlanzo Thurman and Emanuel Atkins; while Anthony and Ashley Harding, Terrence Morgan and Glenroy Semple will be the spearhead of Goed Fortuin's challenge for a place in the final.
Newtown Kitty then take to the field to oppose Soesdyke, and this encounter could likewise supply the kind of action that is normal at this stage of a competition, when teams battle for the final spots.
Anthony Sancho, Pernel Schultz, Steffon Reynolds and Simeon Moore are the marquee players for Newtown; while Seosdyke will be led by Roger Dey, Delon Smith, Tyrone Khan and Dwayne Barker.
Pouderoyen and Mahaicony then go toe to toe for a place on final day, and this could be another humdinger.
Kayode King, Keron Boyce, Dwayne St. Kitts and Steffon Jupiter are all capable of match winning performances, and Pouderoyen will definitely be hoping for them to set up a win; while Mahaicony will no doubt be relying on the likes of Ruel Chester, Kenroy D' Aguiar, Jason Wronge and Mark Roberts to enhance their chance to advance.
Uitvlugt then oppose Timehri, and the West Side challenge will be led by national player Trayon Bobb, along with Seon Bobb, Keon Duke and Daniel Floy; while the visitors' desire to create an upset will depend on the services of Owen Denny, Prince Forde, Kevin Sobers and Monty Walcott.
The final game of the night — between hosts Den Amstel and Crane — must see the former start as strong favourites to progress, especially playing on home turf and with the likes of national player Delon Lanferman, together with Leo Lovell, Rayan Hunte, Kester Dundas and Jeffrey Perreira in the squad.
Crane's hope of silencing the anticipated rabid support will depend heavily on Kwesi Henry, Jamal Mounter, Taylor Wharton and Oswin Boyce.
Mahaica drew a bye
The winning and runner-up teams will receive $400,000 and $200,000 respectively along with trophies, while Highest Goal scorer and Most Valuable Player will collect gifts compliments of China Trading and A.H. & L Kissoon Limited, and trophies donated by Javon Dazzell.
Among the sponsors on board for this activity are: Ministry of Citizenship, Courtney Benn Construction Services, Techno Mills, IPA, Alfro Alphonso, Sattaur Gafoor, ANSA McAL, Top Brandz Distributors, MACORP, Starr Computers, Cummings Electrical, Ready Mix, B.K International, New Thriving, e-Networks, NaMilCo, Sleep In, Comfort Sleep, and E.C Vieira Investments.