Sunday's highly-anticipated "Race of Champions" meet being held by the Jumbo Jet Thoroughbred Horse Racing Committee has the decided advantage of the full support of beverage giants Banks DIH, who have thrown their support behind the mega-race.
The Port Mourant Turf Club in Berbice will come alive this weekend with 10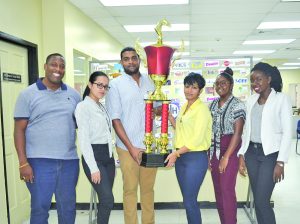 exciting races, set to get underway from 12:00h.
During a simple presentation ceremony held at Thirst Park, the beverage company handed over the sponsorship cheque and the first place trophy for the feature race to promoter Nasrudeen Mohamed, Jnr, who received the package from Export Manager of Banks DIH Limited, Shavini Tulsi, in the presence of Outdoor Events Manager Mortimer Stewart and other members of the Sales Department. Sunday's inaugural "Race of Champions" meet will see horses covering distances of 1300 metres for prizes close to $2 million; and Mohamed has added that all races are expected to start on time, with entries being paid for, while jockeys are to be weighed 15 minutes prior to the race. Meanwhile, the organising committee has advised that only entry forms provided by the Jumbo Jet Thoroughbred Racing Committee will be accepted.