–
at launch of Uncapped Expo
This is not just a business event, an agro event or an expo event; it is also a security initiative…Guyanese food from Guyanese farms. This is how we intend to build our capacity to feed ourselves and feed others and to make agriculture and agro-processing an important part of our national economy and our national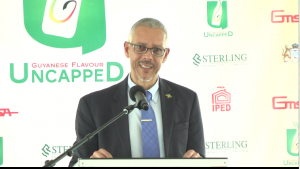 security in a way that is sustainable."
Those were the words of Business Minister Dominic Gaskin in a feature address at the official media launch of "Guyanese Flavour Uncapped; Agro processors Exhibition, Market and Food Festival" at the Sophia Exhibition Centre, Greater Georgetown on Wednesday afternoon.
The Minister alluded to the fact that Guyana has extensive land, water and labour, which includes the farmers and producers in various aspects of agriculture. According to Gaskin, the Expo seeks to match those people with opportunities to market their produce to increase consumption of local products. He also noted that it was important to reduce the food import bill.
"Our economy simply cannot sustain an appetite for foreign foods. We are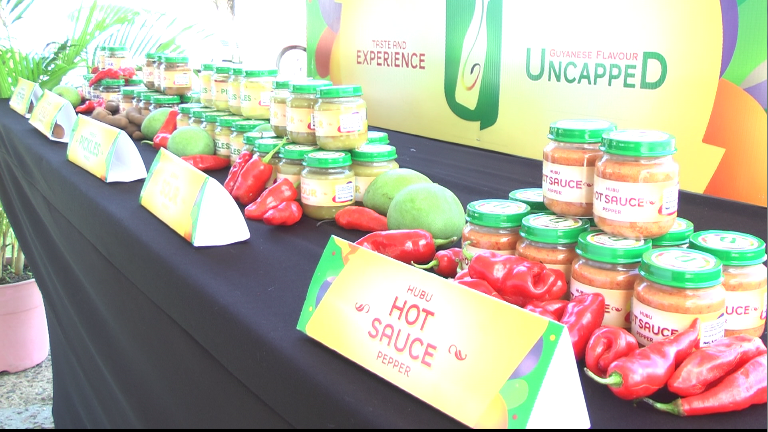 pressuring ourselves unnecessarily by importing foods that we can very well be producing ourselves…," he posited.
From a health perspective, the consumption of foreign products has the detriment of affecting the quality of life of the Guyanese people in the long run if smart choices are not made now about the kinds of foods that are consumed in excessive amounts. Gaskin noted that a healthy nation could not thrive on other people's "left overs", while in the same breath he clarified that he was not campaigning for the total abolition of food importation, but rather a reduction. "We need to produce more of what we consume and consume more of what we produce," he postulated.
Gaskin also highlighted the importance of the quality of food produced locally, as he recognised that it would prove challenging to secure markets for (local) products, which were not as good or as attractive as foreign products.
"If we are to be importing food to other countries, we need to understand the requirements of those markets and be able not only to meet those requirements, but to provide the certification to say that our products meet those requirements."
He urged the public to support local producers at the Agro Processors Exhibition while relaying that the Government was committed to supporting agriculture in Guyana and making farming a viable business option for Guyanese. The Exhibition would be used as a forum for sharing information about market requirements with producers while reaching out to businesses and consumers to secure effective marketing.
Minister Gaskin concluded his address by acknowledging the collaboration led by the Private Sector with the support of Government.
"The Ministry of Business recognises the importance of business support organisations and we have given our commitment to working with those associations to help develop industries that seem not to be taking off on their own," he affirmed.
The Ministry is reportedly seeking to work with relevant organisations to examine the value-added industry on a sector-by-sector basis and to arrive at solutions to make each sector more viable.
Meanwhile, Guyana Manufacturing and Services Association (GMSA) President Shyam Nokta touched on the broader context of food within the Caribbean Region, stressing that it was a net importer of foreign products at an approximated cost of US$4 billion annually, and this figure had increased by 50 per cent since 2000 and was expected to double by 2020.
Nokta questioned whether Guyana was marketing its produce sufficiently or whether enough support was being invested in local producers, in light of the relatively high level of foreign products in local supermarkets, some of which we can or are already producing locally.
He further highlighted the importance of agro-processing, saying it played a vital role in the livelihood of farmers, both on the coast and in the hinterland.
The recent call by Government for the manufacturing sector "to do more" is what has prompted the GMSA, despite challenges, to find an initiative to exhibit the produce of small and medium manufacturers while providing opportunities for them to market themselves. The exhibition also presents an opportunity for established manufacturers to promote existing grants.
The GMSA President proudly declared that the Expo would become an annual activity as he called on the general public and the Private Sector to support the event.
Institute of Private Enterprise Development (IPED) CEO Ramesh Persaud made a surprise announcement by disclosing that the institution would in a month be launching a special facility to support technology in agriculture, and IPED is seeking 25 micro businesses to participate in the programme. Costs are attached to entries, but where necessary IPED will assist in covering same.
"The Guyanese Flavour Uncapped; Agro Processors Exhibition, Market and Food Festival" is the fruit of collaborations between the GMSA, IPED, Sterling Products Ltd and the Business Ministry. This event is set to be hosted from October 27 to 29, 2017.