…CWI in conversation with Jamaica Government towards this end
By Brandon Corlette
Chris Gayle's dream of playing a farewell match in Jamaica is shaping up to be a reality. Cricket West Indies (CWI) Chief Executive Officer (CEO) Johnny Grave has said the board is in conversation with the Jamaica Government to host Ireland at Sabina Park in a T20 International in January 2022.
"Three ODIs against Ireland the second week in January, and then one T20I at Sabina Park. Hopefully, if fans are allowed, that would be a good opportunity for us to say farewell to Chris at his home ground," Grave has said.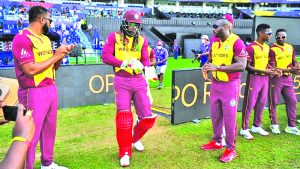 "We are still talking to the Jamaican Government around the protocols and the ability to play the series there. But I hope within the next few days we can confirm that series taking place and being held in Jamaica," he explained.
"We know that, in terms of international tournaments, the (T20 World Cup) was the last one. Collectively, we (at CWI) feel it is appropriate for him to have one last game at home, to say farewell; and certainly, the Ireland series would represent that opportunity.
"Whether or not it happens I do not know, but it would be appropriate, as far as I can see it, to treat our players and give them the opportunity to bow out, especially players like Chris, who had unbelievable careers and won trophies for the West Indies," Grave disclosed on the Mason and Guest radio programme.
During the West Indies' last match at the 2021 T20 World Cup, Gayle clarified that he had not made a decision to retire, but that the end of his international career was coming. "I was just having some fun today," he said. "Put everything that happened aside, I was just interacting with the fans in the stand and just having some fun, seeing as it's going to be my last World Cup game."
Asked to clarify his comments, Gayle laughed: "I'd love to play one more World Cup, but I don't think they will allow me. It's been a phenomenal career. I didn't announce any retirement, but they actually give me one game in Jamaica to go in front of my home crowd, then I can say, 'Hey guys, thank you so much!' Let's see. If not, I'll announce it long time, and then I'll be joining DJ Bravo in the backend and say thanks to each and every one; but I can't say that as yet."
Gayle played 79 T20Is, 103 Tests and 301 ODIs. Gayle's international career has spanned 22 years. Often forgotten in the Chris Gayle story are the challenges he has had to overcome over the journey, including the need for heart surgery in 2005, after he retired mid-innings in a Test match against Australia.
He excelled in Test cricket, primarily as an opening batter, making 7,214 runs at 42.18, with 15 centuries and a high score of 333. And in ODI cricket, he made more than 10,000 runs at 37.83, with his high score of 215 coming at the 2015 ICC Cricket World Cup.
A two-time winner of the ICC Men's T20 World Cup, in 2012 and 2016, Gayle was fittingly the first player to score a century in the format at the international level, doing so in the maiden T20 World Cup match.
The Universe Boss has been a dominant force in franchise leagues around the world, scoring more T20 runs than anyone else (14,321) and hitting a record 22 T20 centuries, 14 more than any other player.