As promised some two weeks ago, the Guyana Boxing Association (GBA) in collaboration with Seon Bristol of Bris O Promotions on Saturday last presented 65 hampers to boxers and officials of the Association.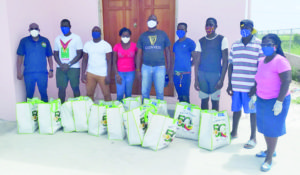 The hampers were made possible, following donations from several companies and avid supporters of the Association. The USA-based Bristol said that it was the first but not the last time that he would be seeking to pursue such a noble venture and he would be providing assistance during the "difficult COVID- 19 period."
Bristol, who has been a huge supporter of the sport over the years: sponsoring several pugilists and initiatives, added that there will be further dialogue with the GBA on if and when a similar exercise would be held.
On the other hand, GBA President Steve Ninvalle explained that in such trying times it is only fitting that the Association attempted to minimise the burden of its affiliates. He urged other sporting associations to follow suit as there was a present and urgent need.
Ninvalle also shared that hampers were delivered to the families of the four boxers stranded in Cuba, Colin Lewis, Dennis Thomas, Keevin Allicock and Desmond Amsterdam. Hampers were distributed to boxers, referees, judges, and coaches.
Meanwhile in Cuba, those stranded boxers are also expected to receive hampers through the Department of Public Service, which sought to assist Guyanese students, the boxers, and other officials on the Spanish-speaking island.