GHB Outdoor League…
By Romario Samaroo
The St Joseph High (SJH) Hockey Team suffered another embarrassing defeat at the hands of the Georgetown Cricket Club's Hockey Team (Strikers) when action in the weekend outdoor league for second division hockey teams was staged by the Guyana Hockey Board (GHB) on Saturday at the St Stanislaus College Ground in Carifesta Avenue on the northern outskirts of Georgetown.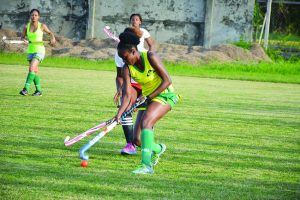 The GCC players were in control of the match from the get-go, and had registered an ominous 4-0 by the halfway point of the match. They went on to win by a commanding 11-0, thanks to the efforts of Abosaide Cadogan, who scored a quartet of goals (7th, 19th, 25th and 26th minutes) to lead from the front. She was well supported by the Fernandes duo of Paige and Madison, who scored three (29th, 31st, 33rd) and two (11th and 38th) goals respectively. Sarah Klauky (12th) and Alana Cheung (27th) both contributed with a goal each to see their team complete the largest and most convincing win of the day.
In the other U-18 girls' match, Saints defeated Hikers 4-0.
In the boys' U-18 category, the GCC males followed their female counterparts to hand Hikers a 4-0 defeat. Kareem McKenzie scored twice (10th and 38th), and received support from Samuel Woodroffe (36th) and Rahim Oliver (39th) late in the match to see the team home comfortably.
Saints also secured a narrow win over SJH boys, with Edmund Chinian registering the only goal to be scored in that match, in the 32nd minute.
In the second division women's matches, Kenisha Wills led the Hikers' ladies to an important win, scoring the only two goals for her team's 2-0 win, with the goals coming in the first minute of action and in the 22nd minute, to see Old Fort lose the game.
Also, GCC were able to fend off Saints in the other second division women's match, winning 3-1. Corina Moller score a double (5th and 26th) with Dacia Woodroffe (23rd) scoring the third goal. Charlyn Elliot was the only one to score for Saints in the 11th minute.
The action continues next weekend at the same venue from 15:00h.