As the commemoration of the 100th Anniversary of the Abolition of Indian Indentureship continues in various Caribbean territories, Prime Minister Moses Nagamootoo was among a group of esteemed guests who attended a cultural celebration in this regard held at the National Cultural Centre in Chaguanas, Trinidad on Saturday evening.
Among the distinguished guests were Prime Minister of Trinidad and Tobago, Dr Keith Rowley; High Commissioner Bishwaishwar Ramsaroop-Maraj; and President of the Indian Diaspora Council, Ashook Ramsarran; along with other executives.
Both Prime Ministers – Rowley and Nagamootoo – were among speakers at the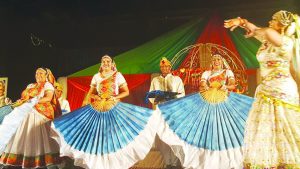 ceremonial opening of the proceedings. Nagamootoo, during his remarks, iterated the multi-ethnic, multi-cultural mix of the Caribbean, and made mention of outstanding contributions of East Indians and their descendants to nationhood and all-round development.
Guyana had, earlier this month, hosted similar events to commemorate 100th anniversary of the abolition of Indian indentureship, which had brought thousands of Indians to the West Indies (primarily Guyana and Trinidad) to work in slave-like conditions on the plantations.
Trinidad and Tobago now joins in commemorating the abolition of Indian Indentureship while recognizing and honouring the contributions of the Indian forefathers to the development of the diverse societies which exist in the two countries.