With the Prime Minister of Trinidad and Tobago, Dr Keith Rowley, currently in Guyana and already having had a meeting with President Dr Irfaan Ali and some of his Cabinet Ministers, at least one Private Sector organisation is calling on the Guyana Government not to sign any agreements with the twin-island Republic until certain trade barriers are removed.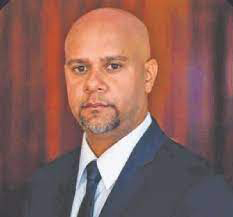 The Trinidadian Head of State and his delegation arrived in Georgetown on Tuesday for a five-day visit, to attend the inaugural Agri-Investment Forum and Expo which will be held from May 19-21 at the Arthur Chung Conference Center.
In a statement on Wednesday, however, the Georgetown Chamber of Commerce and Industry (GCCI) noted that it is aware of the Guyana Government's intention to establish and sign a Memorandum of Understanding (MoU) with the T&T Government that would target the areas of agriculture, energy and national security. The Chamber has expressed its objection to such a move, and urges the Guyanese authorities not to sign any such document until the removal of non-tariff barriers (NTB), which are trade restrictions put in place by countries to protect their own local industries.
"The Chamber's concern comes in light of the fact that there are still many non-tariff barriers (NTBs) implemented by Trinidad and Tobago against Guyana. These NTBs prevent exports from Guyanese businesses, and by extension inhibit the growth of Guyanese enterprises. Accordingly, the Chamber of Commerce, as it did in 2018 with a previous MoU of a similar nature, strongly urges the Government to refrain from signing any MoU with Trinidad and Tobago until these non-tariff barriers are removed," the GCCI said in the missive.
According to the Chamber, it has a mandate – as the oldest and largest Private Sector representative organisation in Guyana – to ensure that the concerns of the enterprises that have continuously expressed difficulties as it relates to doing business in and with Trinidad and Tobago are voiced.
"The Chamber of Commerce therefore reiterates its disagreement with this action by the Government of Guyana, and once again urges that these long-standing NTBs be removed," the Private Sector body has contended.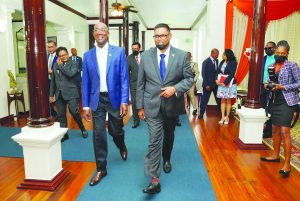 This position by the GCCI comes months after widespread public outrage erupted among Guyanese Private Sector stakeholders in January over comments made by the Head of the Caricom Private Sector Organisation (CPSO), who in a leaked email claimed that Guyana's local content law, which makes provisions for Guyanese persons and Guyanese businesses to benefit from the oil and gas sector at specified percentages, violates certain provisions of the Revised Treaty of Chaguaramas.
The issue had also sparked calls for Guyana to consider exiting the Caricom Single Market and Economy (CSME), with GCCI President Timothy Tucker pointing out that Guyana has always been short-changed within the regional bloc when it comes to trade.
He had published figures on his social media page to show that Guyana imports far more than it exports to the Caribbean region.
"The entire Caribbean refers to Guyana as possibly being the breadbasket of the Caribbean, but yet they have numerous amounts of non-tariff barriers preventing us from attaining that goal… Now, if we're going to continue along this road, and those countries want to do trade with Guyana, they need to move those barriers and allow Guyana to enter those markets. We're not asking them to lower their standards, but those are non-tariff barriers; there's no way to reach a standard to go around that," Tucker had stated back in January.
At the time, it was highlighted that most of the trade barriers Guyanese businesses face are from Trinidad and Tobago. It was noted that while the issue has been raised numerous times, both at the Government and Caribbean Community (Caricom) levels, and commitments were made by T&T officials to look into the matter, nothing was ever done to address the challenges Guyanese face in not only exporting, but also transiting the shipment of certain products in T&T.
Meanwhile, Chairman of the controversial CPSO, Gervase Warner, who had signed the leaked email in his capacity as President and Chief Executive Officer of the Trinidad-based regional conglomerate Massy Group, had told the Trinidad and Tobago Guardian newspaper back in January that the situation escalated because of the way Guyanese businesses have been treated by the twin-island Republic over the years.
"This did not happen last week, this is decades, scores of years of stuff building up over time… That had nothing to do with that leaked email, that has everything to do with a history of how the Guyanese feel they have been treated by T&T and T&T business, and quite frankly I think it is a great opportunity for us to listen to them, and for us to be part of a healing conversation," the businessman had opined in the article.
The CPSO had described itself as "the most recently-accredited Associate Institution of the Caribbean Community", and is to act as the "apex" institution for the Private Sector in Caricom, with a mandate to contribute to the full implementation of the Caricom Single Market and Economy (CSME).
However, major Private Sector representatives in Guyana, including the Private Sector Commission (PSC), have questioned the legitimacy of this body, especially since they were unaware of its establishment.
In fact, the Guyana Oil and Gas Energy Chamber (GOGEC) met with the Secretary General of Caricom, Dr Carla Barnett, to voice its concerns, and called for the regional bloc to suspend recognition of the CPSO. (G8)