– Chief of Staff continues to remain mum on matters involving ranks' crimes
Another military official is now in hot water after he was caught with an unlicensed .32 Taurus pistol with magazine, a quantity of ammunition, and a quantity of cannabis in the motor vehicle he was driving along Avenue of the Republic on Monday.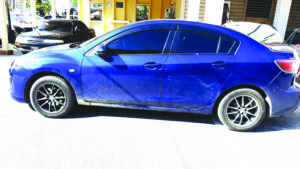 Three other men were arrested including a pork knocker, who was the lone passenger in the army rank's car at the time of the discovery and arrest.
The other two – a farmer and a carpenter – were also taken into custody after they were spotted exiting the vehicle moments before Police swooped down on the car.
The Guyana Defence Force (GDF) rank has been identified as a 30-year-old Coast Guard Captain who was on detachment in New Amsterdam, Berbice.
Reports are that around 14:00h on Monday at Avenue of the Republic and Croal Street, Georgetown, Police ranks attached to the Brickdam Police Station received information about the military official and the vehicle he was operating.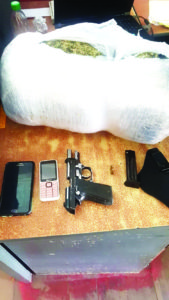 The police managed to intercept the car (PXX 94) and escort the driver and the lone occupant to the police station where a search was conducted.
In the middle pocket of the car, the .32 Taurus pistol with magazine and two live .32 rounds of ammunition were found and a bulky parcel wrapped with transparent plastic containing suspected cannabis was discovered in the trunk of the vehicle.
The Coast Guard Captain was grilled about the firearm since he was not the owner but he reportedly related that the weapon belongs to his father-in-law, who is a businessman in East Bank Essequibo (EBE).
He told the police that he would usually have his father-in-law's firearm in his possession.
According to a police source, the parcel with the suspected cannabis and firearm were dusted for latent prints but none were uplifted.
However, when this publication contacted the GDF's Chief of Staff, Brigadier Patrick West, for a comment on the issue and update on the military rank, he once again rudely redirected the newspaper to make contact with the army's Public Relations Office.
"This is the office of the Chief of Staff. If it [is] a public relations matter, call the public relations department. Is it a personal matter or a public relations matter? Please exercise the protocol if it is public relations", West told Guyana Times before disconnecting the call. This was not the first time the military personnel was rude to the media house.