Floodwaters continue to rise following the breach at Dantzig, Mahaica foreshore, thus causing severe flooding in Region Five (Mahaica-Berbice).
On Monday evening the water levels reached new records and new areas became inundated. Animals continue to die and schools in the area remain closed.
However, those who were forced out of their home on Sunday evening have all been rescued by relatives and friends but cannot return to their homes.
Residents have been calling for senior Government officials to visit the affected area to update them on relief efforts.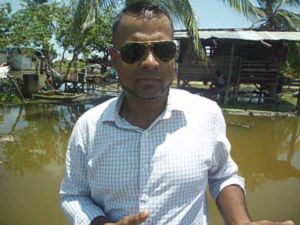 Despite this, the Ministers of Agriculture, Public Infrastructure and Health are still to visit any of the affected areas in the region.
Meanwhile, the blame has been placed on the previous Administration. Residents say that persons were in the community and told them that the breach at Dantzig occurred 23 years ago and nothing was done about it.
"They say is when the PPP [People's Progressive Party] was in Government…"
Residents expressed surprise at the accusations, saying that there was no flooding as a result of intrusion from the sea prior to last weekend.
However, the residents related that an A Partnership for National Unity (APNU) Member of Parliament, Jenipher Wade, visited them and made the accusations.
Earlier in the year, Guyana Times published stories highlighting the fragile sea defence at Mahaica.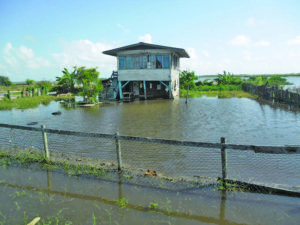 Regional Chairman Vickchand Ramphal is saddened that residents and farmers have been made to suffer.
"I would have highlighted this situation with the sea defence more than one and a half year ago when it started and little attention was paid to this situation by the Government. There were Government officials who refuted what I said and they tried to give people that I was propelling the wrong information. However, I did make mention of the consequences which we are experiencing today," Ramphal told Guyana Times.
More than 300 acres of rice have been destroyed and hundreds of acres more are under threat of destruction by saltwater. Apart from the destruction of the rice, the flooded land is becoming salty and can no longer work for rice production.
Ramphal said he is not getting the necessary support. "There are huge loses, people have been affected, some children cannot attend school; many of them have to remain indoor and some families don't know where to turn to. I would have engaged several governmental agencies, such as the NDIA [National Drainage and Irrigation Authority] and the river and sea defence and I must say that they are on board. However, I am very disappointed with the response of some of the other agencies right in the region here we have MMA [Mahaica Mahaicony Abary-Agricultural Development Authority] and it took me over 24 hours before I can get to the General Manager…"
The River and Sea Defence Unit has been at work since the breach was highlighted. The Civil Defence Commission has also issued supplies to affected residents.
However, some residents have expressed concerns that other breaches could have occurred given the fact that the entire area is flooded and it is impossible to properly assess the situation. They have also noted that water has been pouring in from a different direction.
Ramphal said he will continue to engage every possible organisation which can bring some form of relief to affected residents. (Andrew Carmichael)