– says full Commission's 35-day decision subverted, should have been reinstated
Opposition-nominated Guyana Election Commissioners, who arrived at a meeting on Tuesday hoping that the decision to hold Claims and Objections (C&O) for 42 days would be reviewed, were left sorely disappointed, as a decision was taken to stick with that timeline.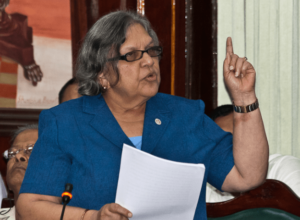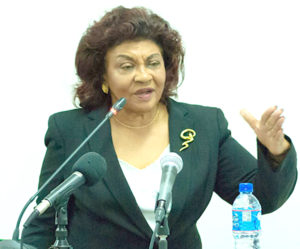 The meeting, which lasted for several hours, saw a vote being taken on the duration of Claims and Objections. At the end of the vote, a decision was taken to stick with 42 days, rather than the 35 days the full Commission had initially decided the exercise would take.
At the end of the meeting, Commissioner Bibi Shadick described herself as being disillusioned by the decision. Shadick claimed that GECOM Chair retired Justice Claudette Singh gave her assurances on Monday that the 42-day decision would be corrected.
"Interestingly, his (Chief Elections Officer Keith Lowenfield's) rationale is that because his timeline was catering for elections on the 24 of February, and the President announced March 2, he had seven extra days. And interestingly, he told the Chairman before he put the 42 days and the Chairman did not doubt him".
"So my firm opinion is that when the Chairman signed the second order, she knew very well she was signing 42 days, against the decision of the Commission. That is my firm opinion. And as far as I'm concerned, this is deja vu. We have another Chairman who is going against decisions of the (full) Commission, without the Commission's input," Shadick added.
Meanwhile, Commissioner Robeson Benn noted that the 35 days should have been sufficient to carry out Claims and Objections. Benn also noted that the 35 days would be in keeping with the decision made by the Commission last week.
"We have had the unsatisfactory occurrence where the Commission made a decision to have 35 days for Claims and Objections (and it has been changed). Originally, (GECOM Commissioner Charles) Corbin was suggesting 49 days, and then 42 days. The Commission decided 35 days, a decision I voted against (last week) because I suggested 28 days".
"To our surprise, the Chairman somehow signed an original order for 49 days—Mr Corbin's number. That error was supposedly corrected, but then it returned as 42 days, not 35 days. We had great disagreement today (Tuesday) about this problem. It came to a vote".
According to Benn, it was felt that 35 days was sufficient time to give everyone who needed to a chance to participate in C&O. This was particularly so since the GECOM sub-offices would be open all day for this. Benn noted that the 42-day decision is against the record of the Commission from last week Tuesday's meeting.
However, Commissioner Vincent Alexander expressed the view that the 42 days and the extra time would actually be a good move. Besides the timeline for Claims and Objections, there were discussions about GECOM sub-offices for Claims and Objections.
A decision has also been taken to have the offices conducting Claims and Objections remain open all day. According to the Commissioners, they examined a list of 41 possible sub offices that would be set up. This list, according to Shadick, will be perused by the Commissioners. It is understood that another meeting is scheduled for Friday, where outstanding matters will be dealt with.
As per GECOM's latest order, persons have until November 11 to make any objections to the list— if they are a Guyanese citizen by birth, descent, naturalisation or registration, 18 years or older or will attain the age of eighteen by December 31, 2019.