The defending champions, Guyana Defence Force (GDF) had to produce a solid all-round performance to defeat the resolute Victoria Kings team on Sunday at the Georgetown Football Club Ground when action in the GFF Elite League III continued.
GDF emerged victorious 2 – 0 against the Kings in the feature of the double header which saw New Amsterdam United outplay Milerock FC in the curtain raiser.
The GDF/Kings showdown was closely contested with both teams showcasing their dynamic abilities but it was the Army Men who gained the upper hand through a Delroy Fraser goal in the 31st minute.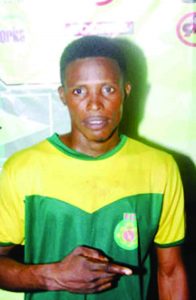 Resuming the second 45 minutes with GDF ahead by one possession, both sides found it hard to find the back of the net. However, persistence by the victorious side led to the second goal by Carlus Adams in the first minute of injuries time.
Earlier in the night, Milerock and NA United battled to a goalless first half but it was the Berbician side to draw first blood in the 59th minute when Jeremy Samuels scored. They then added to Milerock's misery with a second goal, compliments of Jamal Butts who scored six minutes later.
But the Mining town side had a glimmer of hope when Colin Beckles pulled on backed in the 79th minute. With 11 minutes to go NA managed to keep their one goal lead until the regulation time whistle was sounded.