Three-time defending champions Chase Academic Foundation sealed their quarter-final spot by defeating a spirited Ann's Grove Secondary 3-1 on Monday evening at the Ministry of Education ground, Carifesta Avenue to mark the end of the round-of-sixteen matches.
The East Coast Demerara unit had many inspiring plays and showed they were not intimidated by the imposing opposition but failed to capitalize on their chances. Captain Jeremy Garrett created the first opportunity by unleashing a powerful shot which deflected off the thigh of a defender and into the net in the 17th minute.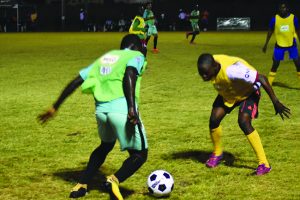 Eleven minutes later Wayne Barker made it two and Chase were on a roll. The second half is where things became quite interesting with Ann's Grove playing a higher tempo. Success came when Nkosi Williams reduced the lead in the 49th minute. More 'ohhs and ahhs' came plentiful for them but Chase found a way of stretching their mid-field and returning the power in their favour.
Concentration went and so a did a loose ball which Malachi Adonis skipped pass the keeper and rolled into goal in the 90+4 to put a cap on the proceedings.
Earlier, former champions Lodge Secondary trounced Business School 3-0 on the back of goals from Shemroy Myers (14th), Adrian Berkshire (66th) and Triston Gordon (68th).
The quarterfinals   will be played this weekend where Buxton Youth Developers duel with  Masters Academy from 14:00h on Saturday  followed by the blockbuster clash between  the defending champions  and  Sir  Leon's Lessons  from 16:00h.
On  Sunday, Lodge face Pure Masters  then Morgan's Learning Centre oppose Annandale Secondary; semi-finals  and final will be played on March 25 and 28 respectively.
Played under the theme "there is no excuse for violence" due to the tournament's partnership with the Ministry of Public Health, the under-18 boys will be hoping to secure the first place prize of $500,000 which goes towards a school project.