Over the weekend, action in the Guyana Football Federation (GFF) Pele Alumni Frank Watson Under-15 League continued in Linden and the East Demerara Football Association (EDFA) as Botafago and Mahaica Determinators both recorded comfortable wins.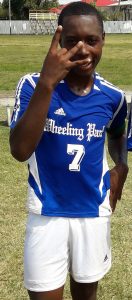 Tyrell Lewis led Botafago to a 4 – 0 win over Ameila's Ward Hi Stars at the Wisburg Secondary School Ground in Linden, on Saturday.
Playing the second game after the first was called off due to Eagles United not turning up, Botafago took the lead through Lewis in the 11th minute then he completed his brace in the 20th minute.
Botafago came out in the second with a two-possession lead then piled on two more goals to put the victory beyond doubt.
Adrian Samuels increased it to 3-0 in the 46th minute then Malachi Todd recorded the final goal in the 53rd minute.
This Saturday another double header unravels at the same venue.
Over at the Golden Grove, Trevon Adams led Determinators to a 4 – 3 win over Golden Stars in a game where the score line did not tell the entire story. Adams led the way with a hat-trick as he scored in the second, 35th and 53rd minutes while his teammate Omari Walcott accounted for the other goal in the 50th minute.
Golden Stars' Japhet Sam scored in the 15th and 48th while an own goal from the opposition's Triston Assage gave them a glimmer of hope but it was not enough to trouble the Mahaica Squad.
BV/Triumph squeezed past Buxton United 2 – 1 as Tyrice Dennis scored the equalizer and decider in the 33rd and 60th minutes to overshadow Anyika Headley's 15th minute goal for Buxton.
Meanwhile, Buxton Stars and Plaisance Panthers battled to a 1 – 1 stalemate with goals from Buxton's Keishon Fraser (10th) and Plaisance's Jamal Fraser (26th).