By Akeem Greene
In a bid to regain the Caribbean Motor Racing Championships (CMRC) title, President of the Guyana Motor Racing & Sports Club (GMR&SC) Ramez Mohamed is hoping to send a large contingent to the first leg of the championships in Jamaica from May 12-13.
The precursor to arriving at the travelling group will be the upcoming National Race of Champions slated for March 25 at the South Dakota Circuit, an event which Mohamed posited to be very competitive given the stakes.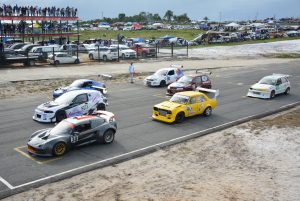 "I can assure you of competitive racing because a lot of drivers are coming out and they are all fixing their cars to compete in the first leg of CMRC in Jamaica. They are all aiming to win since we will select the top four cars [from the various groups] to represent us in Jamaica", the President explained in recent interview with Guyana Times Sport.
After relinquishing the title in 2016 to Trinidad and Tobago, the Guyanese have found a torrid time in regaining the crown mainly due to a miniscule of traveling competitors to the three away legs.
Last year, the twin island republic finished the four legs of the championship with a whopping 1,267 points. Guyana finished second after a remarkable performance on the final leg, finishing with 648 points while Barbados settled for third with 580 points.
However, Mohamed seems optimistic the tide can turn in the favour of the Guyanese this year on the inclination an increased team will be touring.
"Most of the drivers have confirmed they are racing, especially the group 2. Trinidad score a lot of points in the lower categories especially due to our low participation but the guys have pledged to tour this year and we are looking to regain the title".
Numbers are not the only concern of the GMR&SC head but also adjusting to the new rules the Caribbean Motor Racing Association (CMRA) have implemented for the 2018.
Two new classes have been added with the much-touted 'Group Five' for unlimited machines and a special Group One 'BMW Cup'. The most impactful change rests in group 2 since there will be the introduction of the 13B rotary engine.
According to the rulebook, modifications are unrestricted but must retain production block and cylinder head castings. The12A rotary engine porting is free while the 13B rotary engine should have no peripheral porting. The out of family engine-body swap continues to be outlawed in this group
"The changes goes both ways [against and in favour] for drivers but we are looking to work around it; we are still talking to CMRA to adjust a few stuff to suit the cars so they can be competitive".
Trinidad will host the second leg of the CMRC in July and Barbados the third leg in September while the final leg will be held November 10-11 at South Dakota.