…Fitness Challenge queen Adonis urges
By Akeem Greene
On Sunday, Delice Adonis showed us being young and healthy certainly pays and hard work inevitably brings success as she won the fourth annual Kares Engineering Fitness Challenge held at the National Park tarmac.
Since 2016 the Cross Fit 592 gym member has been actively involved in fitness oriented activities and despite teammate Semonica Duke came ahead of her on the first outing at the challenge in 2017, the 20 year-old shrugged it off and came hungry for success to be number of the ten females in 2018.
Her desire to succeed is not the only fascination but the faithful dedication to living a healthy life is quite inspiring. It is far from a hasty generalisation to posit many young adults of her generation are not inclined to be involved in similar actives but Adonis had a word of advice.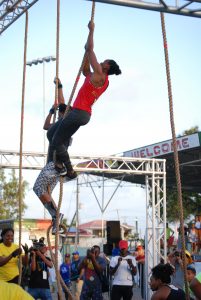 "Get here before it's too late; you don't have to be competitive. It is better to be healthy when you are young than to be running to do good things for your body when you are old".
Currently in her final semester for a degree in Communications at the University of Guyana, balancing the weight of gym and books has become routine.
"I got introduced since I was younger and it's kind of like an addiction and I just love working out and living a healthy life style so they go together perfectly".
Looking back at Sunday's challenge, to say it was a tough would be the least, a gross understatement as the popular description, "it was blood, sweat and tears" connotes perfectly in this aspect.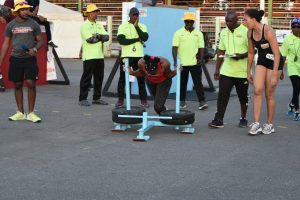 The battle was inexplicably close but the former St. Stanislaus College student held the edge. Both Duke and Adonis were locked 480 points after the five events but the latter was given the nod for the title following a tie breaker (best out of five).
Event number five which comprised (750m Row, 4 Rope Climbs, 2 Sled Pushes with a 15 minute time cap was where the tipping point occurred. For the champ, the scale went in her favour due to an increase in intensity during preparation.
"This year my training was more intense than it was last year and this year I was just pushing a lot harder in every event trying to give it my all."
She further stated, "Ropes are something I do in my training, it was just about pacing myself, knowing that is something I can do and focus on that. Focus on what I can do instead of worrying about other persons."
With a taste of victory, there is no stopping Adonis anytime in the near future as when quizzed on what lies ahead she responded, "for as long as I am healthy and I don't have any injuries forbidding me from doing this, I will be doing this all the time".
Should training continue to go according to plan she hopes her next stop will attending a Caribbean Fitness Challenge later in the year.