…underscores importance of regional cooperation
…urges Army to examine opportunities with Guyana's RSS membership
In its journey to becoming a modern organisation, the Guyana Defence Force (GDF) must understand security challenges around the world and develop strategies to lend support or even proactively respond to any trickledown effects that reach the country's shores.
This was the position of the Commander in Chief of the Armed Forces, President Dr Irfaan Ali on Wednesday during the opening of the GDF's Annual Officers Conference 2023, where he called on the organisation's top brass to understand global and regional security threats such as the developments unfolding in Haiti.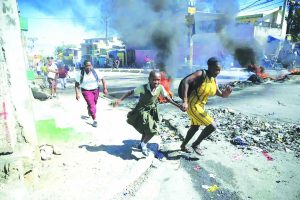 There has been an escalation in gang violence and political instability in Haiti. The turmoil in Haiti has been ramping since the country's President was assassinated in July 2021.
Reports are that gangs have seized control of two-thirds of the capital, bringing human rights abuses and unprecedented malnutrition. In fact, Haiti is said to be experiencing the worst level of hunger in its history, with 4.7 million people suffering from acute hunger.
"It is important that as decisionmakers and leaders in the Guyana Defence Force, that you evaluate these challenges and threats and you evaluate them in the context of the environment in which you operate," the Head of State outlined.
"It is not that we are not facing the consequence of…threats on our borders. We know what is taking place in terms of Venezuelan migrants coming in, and primarily it's as a result of the food crisis and social challenges that they have. We have to understand where these crises are heading and how it will affect our work and what we need to do in preparing ourselves for these challenges," he explained.
Speaking directly on Haiti, the President noted that the country was "in turmoil".
"Again, we're seeing tremendously challenges in Haiti…"
The Guyanese leader declared that the Caribbean must not neglect Haiti, revealing that the matter should come up for discussion when leaders of the Caribbean Community (Caricom) meet for the Inter-Sessional Meeting of the Conference of Heads of Government.
"I'm sure the Chief of Staff and other Chiefs of Staff in the Region are already engaged on this matter of Haiti, because the regional security architecture has already been advised to evaluate the situation. And it is important that at this Officers Conference, a major challenge like Haiti be part of your agenda in having the general leadership understand what is happening there," President Ali explained.
Global threats
Meanwhile, the Head of State highlighted how peace and security were under threat globally and the impacts certain developments have had – or continue to have – on society.
"Recently, you would have seen a number of citizens from the African region being trafficked through the entire region and that is a cause for international condemnation, concern, and investigation. As our country continues to develop economically, socially, and physically, we're going to be a prime destination, a target destination for this type of migratory effect of war," the Head of State outlined.
He also pointed to the war between Russia and Ukraine, and how it has disrupted supply chains around the world.
"Why is this important for national defence? We've seen around the world the effect of the food crisis and energy crisis. Governments have toppled, large scale protests, and great challenges and difficulties to the security environment as a consequence of this effect," he noted.
President Ali contended that such developments must be monitored and analysed, as they impact national defence:
"We must understand what is taking place around us globally, regionally, and then look at what we're doing and how what occurs globally and regionally affect what we do."
Regional cooperation
Moreover, the Guyanese Head of State underscored the importance of regional cooperation and coordination in combating threats.
"One thing we've learnt from the pandemic is how international threats can affect policymaking at the global level. No individual country was safe until there was an international policy environment that supported the fight against the pandemic and we've seen that those countries that took isolationist positions during the pandemic, that they have faced more challenges in the long term than those who collectively battled against the virus," he noted.
President Ali said it was with this in mind, and in recognition of the need to ensure greater collective security, that Guyana joined the Regional Security System (RSS) in September last year.
In this regard, the soldiers were tasked with examining the challenges and opportunities that come with Guyana joining the RSS.
"It's a step that increases our expenditure, but also improves our ability to coordinate, connect, and to get better resources in aiding us. So, this is an area too that this Conference must look at, that is, joining the RSS, the challenges, the opportunities that come with joining the RSS, understanding what the RSS is all about and understanding how our role fit in with that of the RSS."
The RSS is based in Barbados at the Paragon Centre, headed by many regional army chiefs. It mainly serves as a defence system for the Caribbean Sea, conducting many operations by detecting and combating cross-Atlantic and intra-Caribbean drug smuggling, while protecting the sovereignty of the nations of the Caribbean, providing assistance to Caribbean countries at the request of Governments and is usually the first to respond after natural disasters occur, such as hurricanes, floods and earthquakes.
It was created in 1982 to counter threats to the stability of the Region in. The body cooperates with the Caricom Regional Task Force on Crime and Security (CRTFCS). (G11)