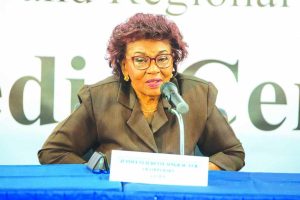 Following the approval of its work plan earlier this week, the Guyana Elections Commission (GECOM) has asked Local Government and Regional Development Minister Nigel Dharamlall to set a date for the conduct of the long overdue Local Government Elections (LGE) in May.
This was indicated in a letter sent by GECOM Chairperson, Retired Justice Claudette Singh to Minister Dharamlall on Wednesday, February 8, which was seen by Guyana Times.
"…I have to advise that the date currently earmarked for the possible holding of Local Government Elections is Monday, May 22, 2023," Justice Singh detailed in the correspondence to the Minister.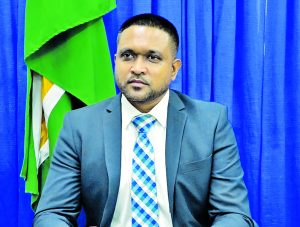 Section 35 (1) of the Local Authorities (Elections) Act, Chapter 28:03 empowers the Local Government Minister to appoint a day for the elections.
Last October, the LGE were set for March 13 this year, but GECOM later deferred it to address issues relating to its registration exercise. This postponement was after court action was filed by Opposition-aligned persons, challenging the process used to compile the List of Electors, or Voters' List, for the impending LGE.
"This decision was taken at a special meeting of the Commission held on Thursday, 8th December, 2022 which was held to deliberate on a proposal submitted by the Chief Elections Officer (CEO), Mr Vishnu Persaud to conduct an Exercise to correct the Registers of Voters for Local Government Elections under Section 24A of the Local Authorities (Elections) Act, Chapter 28:03," the Elections Commission had explained in December 2022.
Nevertheless, earlier this week, the electoral body approved a new work plan that recommended May 22 as the earliest possible date for the holding of the local polls based on the Secretariat's capacity.
During a virtual press conference with the media on Tuesday, Government-nominated Commissioner at GECOM, Sase Gunraj noted that the work plan, which was produced by CEO Persaud, set out the timelines for different activities that must be completed to hold LGE.
"The work plan, of course, has been finalised and we will start to implement it. But as you know with every good plan, it is subject to change… what GECOM will say is that we are ready to hold elections and that readiness will be signified by the middle of March," Gunraj said.
While GECOM has adopted this work plan, not all were supportive of it. The Government-nominated Commissioners – Gunraj, Clement Rohee, and Manoj Narayan – and Chairperson Singh voted to adopt the work plan.
According to Gunraj, the Opposition-nominated Commissioners Charles Corbin, Vincent Alexander and Desmond Trotman abstained from voting for or against the work plan.
Meanwhile, in a subsequent statement, GECOM confirmed the adoption of the report and also explained what the work plan entailed. For instance, the GECOM Secretariat will immediately move to roll out a robust civic and voter education programme, appoint Electoral Registrars and Assistant Electoral Registrars, and extract the Preliminary List of Voters (PLV).
"These activities are directly linked to the preparation of Registers of Voters for each of the 80 Local Authority Areas (LAAs). Preparation for the conduct of Local Government Elections commenced in 2022," GECOM explained.
"In this regard, the GECOM Secretariat had already completed the training of management and polling day staff for all of the Local Authority Areas, and the receipt of applications for and approval of symbols submitted by political parties, voluntary groups, and individuals who intend to contest in the elections."
Only last week, GECOM had decided to adopt a report from the CEO confirming changes to constituency boundaries, moving the Commission closer to holding elections – though not without a fight from the Opposition-nominated Commissioners.
It was decided last year that 14 areas in which boundaries were modified by then A Partnership for National Unity/Alliance For Change (APNU/AFC) Government would be reverted in the lead-up to the LGE when they are held, to allow for better representation.
Minister Dharamlall had announced at a press conference in November that changes were made after consultations with communities and residents in the interest of democracy building.
While the decision was made to revert to the boundaries before they were changed in the year 2016, other communities which were previously not captured would be placed under townships and Neighbourhood Democratic Councils (NDCs). In some areas, NDCs will also be merged or split.
Once a date is set by the Local Government Minister, the Elections Commission will determine when Nominations Day will be held.
In January, GECOM had announced that it will commence a Continuous Registration Exercise from January 3 to May 31, 2023 for eligible persons countrywide.
At Tuesday's media briefing, Commissioner Gunraj disclosed that the exercise saw some 4711 persons applying to be registered as of February 1, 2023. These persons applied in both category A (18 years and older) and category B (persons between 14 and 18).
"The total number of persons who sought transfers was 613 and the total number of persons who sought change and corrections, 736 persons," Gunraj further informed the media.
Additionally, he indicated that May 22, 2023 has been set as the date for persons to come of age and qualify to vote.
More than $780 million was set aside in Budget 2022 for the preparations to be undertaken by GECOM for the hosting of LGE. This money was part of an overall $4.1 billion allocation to GECOM in Budget 2022. (G8)