Even as more uncertainty hovers over the Guyana Elections Commission (GECOM) pertaining to preparations for elections, a Commissioner is calling out Chief Elections Officer Keith Lowenfield for his part in the entire dilemma.
When contacted on Sunday, People's Progressive Party (PPP) nominated Commissioner Bibi Shadick expressed concern over the continued failure of the secretariat to provide detailed work plans to the Commissioners.
She explained that Lowenfield was absent without leave (AWOL) at the meeting where this decision was made and appearing in his place was Deputy CEO Roxanne Myers. Shadick said no excuse was provided for his absence.
"That decision came after we discussed the need for the secretariat to present work plans, which they have not presented to us. It is the duty of the Chief Elections Officer. He was not present in person at Tuesday's meeting. The DCEO was there and she was not committing to anything. She never says she knows this or that."
"She always has to refer to the CEO himself, who was not there and for whom no excuse for his absence was provided. My question was why he wasn't at work. Was he doing some other Commission business? Did he just have lunch and lie down and had a nap? Or is he sick? Nobody could tell me."
According to Shadick, Lowenfield must bear some responsibility since he must have known since last year that elections in three months were a possibility and important documentation like work plans had to be prepared.
"To prepare the work plan should have been done ever since. At the last meeting that was the decision, that the work plans would be prepared and presented to the operations subcommittee to give the different scenarios. I have had cause to remind him that he is a constitutional officer. There are duties that he has to perform with or without the approval of the Commission. The Commission will be inf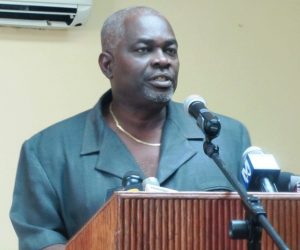 ormed by him in his capacity as the CEO."
"And so the Chief Elections Officer, I think, is in dereliction of his duties. He needed to present those plans ever since. And as we stand here today, the President needs to call those elections and GECOM must and can and will be ready whenever the President calls it. I don't care if they are playing (politics). The Constitution speaks clearly."
Following last Tuesday's meeting at GECOM, the Secretariat had agreed to provide members of the Commission with several work plans detailing the various options and the timelines regarding the holding of General and Regional Elections.
But on Saturday, another PPP nominated Commissioner had spoken out about the foot dragging, revealing that despite these promises, they were yet to receive these work plans.
"No excuse, or attempt at an excuse, has been forthcoming for this refusal and or neglect to provide these work plans, which should have been ready or in any event, easily prepared, from the Secretariat," he said.
These plans were to be submitted on Friday and were to be discussed by members of the Operations Committee at a meeting scheduled for this Monday. However, Gunraj said on Saturday that no such documents have been received nor was any excuse forthcoming from the secretariat.
According to the Opposition Commissioner, this is just another tactic that is being employed to delay the commencement of preparations for holding elections in the constitutionally mandated timeline.
"I have had cause to comment, both within GECOM meetings and publicly, about the obvious dilatory tactics that are being employed to prevent the commencement of preparations for holding of elections in the constitutionally mandated timeline. I view this as another such delay," Gunraj noted.
The parliamentary Opposition and other observers have accused Government of attempting to delay the holding of the constitutionally mandated elections following the no-confidence resolution of December 21, 2018. The three-month time frame in which the polls should be held was validated in last Thursday's interpretation by acting Chief Justice Roxane George, who declared that the motion was validly passed 33-32.
GECOM has been unforthcoming about its preparedness for the mandatory elections despite being mandated by the Constitution of Guyana to hold elections within three months of the passage of a No-confidence Motion.
In fact, during a meeting with Opposition and Government Chief Whips, the Chairman of GECOM, retired Justice James Patterson abruptly ended a meeting on the Commission's preparedness after he was pressed for answers.