…only recount figures valid
Chair of the Guyana Elections Commission (GECOM), Retired Justice Claudette Singh on Monday informed Chief Elections Officer, Keith Lowenfield that the initial declarations made by the District Returning Officers following the March 2 General and Regional Elections have been to set aside and replaced with the certified recount numbers.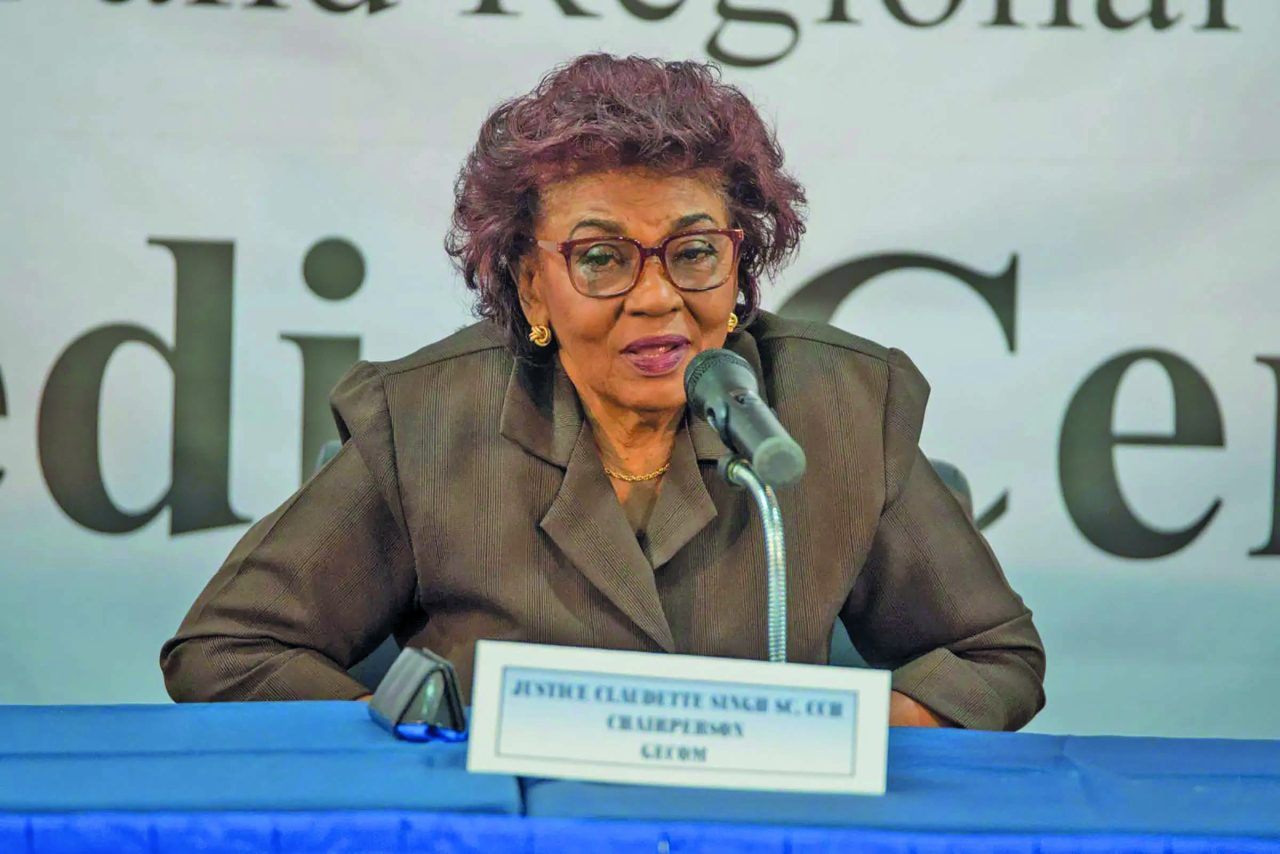 "She (Justice Singh) proceeded to say that the March 13 declarations which included the fraudulent declarations by Clairmont Mingo (Returning Officer for District Four) has been set aside and replaced by the recount tabulation certificates," Commissioner Sase Gunraj told reporters following a meeting on Monday.
The declarations were made by the Returning Officers for the ten districts following the tallying of the ballots on March 2.
Gunraj said that the Chair's decision to set aside those declarations is very important since there has been a constant battle by some Commissioners to use those figures.
"In the discussions, there was great advocacy for the use of the results including the fraudulent Mingo results which the world has spurned upon and I find it rather distasteful because given the understanding and given the genesis of Order 60, the reason we had to endure a recount exercise which lasted in excess of a month, it was because of the very same fraudulent Mingo that has caused and pushed this country into the state it is. I would want to say that any person who advocates for the use of those fraudulent results particularly those of Clairmont Mingo can only be described as someone as part of the rigging cabal," Gunraj said.
However, APNU/AFC-nominated Commissioner Vincent Alexander even at this stage still argued that those figures declared by the ROs should be used since they have never been set aside by any court.
He also claimed that if those figures cannot be used then the Elections Commission should explore the possibility of a non-declaration although the law does not provide for such an occurrence.
When reminded of the fraudulent Region Four (Demerara-Mahaica) results as declared by Clairmont Mingo and discredited by every observer mission, Alexander said there has been no direction and what one needs to understand is the system GECOM is working with. He argued that Chief Justice (ag) Roxane George said that the courts cannot interfere with the administrative workings of GECOM but can order compliance with the procedures as outlined by the law.
He barefacedly told reporters that Mingo would have complied with the procedures when the fact is Mingo did not fully comply with the orders. This was related by every stakeholder except the APNU/AFC – in whose favour Mingo was altering the results.
Fallacious claims
Alexander, true to his party's modus operandi, fallaciously claimed that the Caribbean Court of Justice (CCJ) deemed Order 60 of 2020 (the gazetted Recount Order) invalid, thus reverting to the ROs declarations. When challenged by the fact that the CCJ issued no such order to nullify the Recount Order, Alexander feebly reverted to the CCJ's summary ruling. In fact, the CCJ's ruling states that "unless and until an election court decides otherwise, the votes already counted by the recount process as valid votes are incapable of being declared invalid by any person or authority."
He also stated that the CCJ made no orders in its judgment. However, Paragraph 56 of the CCJ's ruling expressly states: "The Court orders that – (a) Special leave is granted to the Applicants to appeal the decision of the Court of Appeal dated 22 June 2020; (b) The Appeal of the Appellants is allowed; and (c) The said decision of the Court of Appeal was made without jurisdiction, is invalid and of no effect. The Court declares that the report of the Chief Election Officer of 23 June 2020 is similarly of no effect."
By setting aside the declarations, Justice Singh effectively paves the way for a declaration using the figures of the recount. The recount shows that the People's Progressive Party/Civic (PPP/C) won the March 2 polls with 233,336 votes cast in its favour. The A Partnership for National Unity/Alliance For Change (APNU/AFC) secured 217,920 votes. (G2)