After receiving proposals from the Opposition and Government side, Guyana Elections Commission (GECOM) Chair retired Justice Claudette Singh will make a final decision on the timeframe for elections today and communicate same to President David Granger.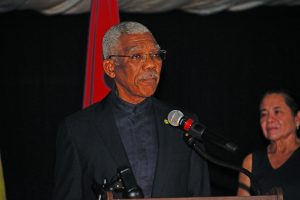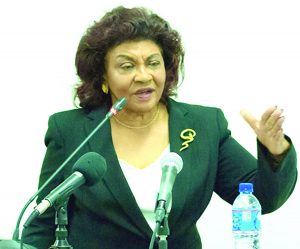 This was announced by both Opposition and Government-nominated Commissioners at the conclusion of a meeting on Wednesday. Opposition-nominated Commissioner Sase Gunraj first made the announcement that Justice Singh would be making her decision in the morning.
Afterwards, Commissioner Vincent Alexander elaborated on what took place at Wednesday's meeting. He noted that fellow Government Commissioner Charles Corbin and Gunraj made presentations on various timelines for holding elections.
"Commissioner Corbin made a written proposal, which proposed March (2020), with possible negotiations to bring it down to an earlier time. Now it's up to the Chairman to make a determination, which she said she would do after studies and contacting advisers, an announcement will be made," Alexander said.
Alexander further explained that Corbin had proposed that the encoding of registrants' data that was gathered during GECOM's House-to-House Registration could be done concurrently with the extraction of a preliminary list and Claims and Objections.
Meanwhile, GECOM later released a statement in which it said that Commissioners Gunraj, Robeson Benn and Bibi Shadick insisted on a November 2019 date for the holding of elections, while Commissioner Corbin made his proposal.
"Justice Singh undertook to study the submission, consult with the Secretariat, and based on all the information available to her make a decision on the way forward. Justice Singh will communicate this decision to the President in accordance with the mandate of the Commission (today)," GECOM said in the statement.
While the Opposition has insisted elections could be held this year, the Government Ccommissioners have been pushing for elections next year. President David Granger has, meanwhile, repeatedly said that he was awaiting the advice of GECOM before he can set an election date, despite Article 61 of the Constitution of Guyana empowering him to dissolve Parliament and set a set for elections.
The responsibility for GECOM to set a date, instead of him, was again repeated in an address to the nation on Monday following a meeting with Carter Center representatives – a meeting during which he promised the organisation not to delay but to act swiftly once GECOM advises him.
During the address, President Granger repeated the substance of previous statements; that GECOM is an independent agency and that he has to await advice from GECOM before he can name an election date.
The constitutional deadline for holding elections, as set out by the Caribbean Court of Justice (CCJ), has meanwhile expired as of Wednesday. When it made its July 18 ruling on the no confidence cases, the CCJ had said that the effect of the No-Confidence Motion was on pause while the cases were being litigated.
That process, CCJ President Adrian Saunders had clearly said, was no longer on pause following the court's June 18, 2019 ruling, which upheld the validity of the No-Confidence Motion and, thus, triggered the need for fresh elections.
In keeping with the constitutional three-month provision once a No-Confidence Motion is passed, this would mean that General and Regional Elections should have been held on or before September 18, 2019.