…now wants "certificate of readiness" from GECOM
Still maintaining that he is awaiting the readiness of the Guyana Elections Commission (GECOM) before setting a date for the much-anticipated General and Regional Elections, caretaker President David Granger has stated that he is uncomfortable running a caretaker Government which has a lot of restrictions on its functioning.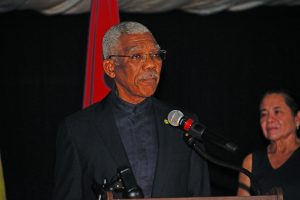 "It is very uncomfortable for me as a Head of State to labour under the restrictions of an interim administration," he told reporters on the sidelines of an accreditation ceremony at the Ministry of the Presidency on Wednesday.
According to the President, apart from health reasons, he has not accepted any invitations for state visits while many of his Government's core functions have been restricted.
"Many of my ministers have had their travels restricted; we cannot plan a budget or bring a budget to Parliament and we cannot engage in certain types of projects which are regarded as irreversible and the whole business of the government has been slow because we are obedient to and compliant with the instructions of the CCJ (Caribbean Court of Justice) since July. So it is uncomfortable for me to remain in this condition," Granger, whose administration was toppled since December 21, 2018, posited.
The Head of State, who has been blamed for the current political status, on Wednesday claimed that his mindset is on credible elections in the shortest time possible.
It is for this reason, he noted, that PNC Chair Volda Lawrence led a Government delegation to meet with the Guyana Elections Commission on Friday to emphasise his Government's interest in having early elections with a credible list.
Contending that he is anxious to have elections held as quickly as possible, President Granger, nevertheless, reiterated that GECOM has the "exclusive authority" to determine its readiness.
"…as soon as I hear from the Commission that it is ready – it has the resources and the staff, ballot papers are printed and all these requirements are complied with under the law – I will then consider making an announcement as soon as possible afterwards".
He went on to say, however, that "…this is not in my hands. People are calling on me and people are picketing, but I cannot do anything because I do not have the authority. I cannot go out and print ballot papers, I cannot appoint returning officers, I cannot detail where polling stations would be. These are functions given exclusively to the Elections Commission, and I don't interfere; I don't intrude and I cannot give instructions to the Elections Commission".
While he insists on awaiting GECOM's advice before setting polling dates, Article 61 of the Constitution of Guyana gives him to powers to dissolve Parliament and set a date for General and Regional Elections. This point has been lamented by legal luminaries and other local stakeholders to the President but to no avail.
Conveniently ignores
In fact, the People's Progressive Party (PPP) Opposition in a statement on Monday maintained that while GECOM is indeed an independent agency, it is not independent of the Constitution of Guyana.
"The caretaker President conveniently ignores this fact and attempts to convey the impression that GECOM, being an independent body, can afford to ignore its obligation to comply with the Constitution of Guyana".
Moreover, the Party drew attention to the July 12, 2019, consequential orders by the CCJ, which had ruled that the No-Confidence Motion (NCM) was validly passed on December 21, 2018, saying that the Court clearly stated that: "The Guyana Elections Commission (GECOM) has the responsibility to conduct that election and GECOM too must abide by the provisions of the Constitution".
Elections were constitutionally due since March 21, 2019 – three months after the December passage of the NCM against the current Government. However, with the legal challenges which ensued, that timeline was on pause but was subsequently reinstated after the July 18, 2019 CCJ ruling which validated the passage of the motion.
Despite the constitutional timeline for early elections long expired, there is yet to be a decision as to when elections will be held. In fact, discussions in this regard are still ongoing at GECOM.
However, following yet another meeting on Wednesday, it was noted that the Chairperson, (retired) Justice Claudette Singh, is expected to make a final decision on a timeframe for polls sometime today.
The PPP has been contending that elections can and should be held long before the end of this year. In fact, Opposition Leader Bharrat Jagdeo made a case for this when he met with the Elections Commission last week.
Meanwhile, as he awaits the Elections Commission to come up with such a timeframe, President Granger told reporters on Wednesday that he is expecting two major benchmarks from GECOM in this regard. That is, that the Commission as a whole is satisfied with the credibility of the voters' list and secondly, that the schedule is one which is achievable.
"So the second benchmark they must give me a sort of certificate of readiness and after that I'm good to go," the Head of State posited.
GECOM Chair retired Justice Claudette Singh is expected to meet with the President today to inform him of the date by which GECOM will be ready for General and Regional Elections.