…says it worked with lists received from service branches
Denying claims from an Opposition-nominated Commissioner that it disenfranchised members of the Disciplined Forces who voted on Friday last, the Guyana Elections Commission (GECOM) says that it got its list of eligible voters directly from their respective service branches.
Those claims have largely been advanced by Opposition-nominated GECOM Commissioner Vincent Alexander, who said that on June 2 – the day set aside for the Disciplined Services to vote – some 900 Disciplined Force members were unable to vote in Local Government Elections (LGE) 2023.
In a statement on Tuesday, the elections body strongly denied these claims and made it clear that lists of serving Disciplined Forces members were received from the service branches themselves.
GECOM explained that in keeping with the usual practice, preparations for the Disciplined Services to vote began months in advance and involved constant communication between senior officials of the respective Forces and the Ballot Officers, to ensure that ranks were assigned to their rightful Local Authority Areas (LAAs).
The Guyana Police Force (GPF) was represented by Nardeo Persaud, while the Guyana Defence Force (GDF) was represented by Areana Britton and the Guyana Prison Service (GPS) was represented by Sharon Jethu.
They coordinated with GECOM's Chief Election Officer (CEO) Vishnu Persaud and Deputy CEO Aneal Giddings. Once received, the names were verified against the National Register of Registrants, to create a voter list.
"Hence, it must be highlighted for emphasis, that the 'Register of Ranks' to vote on Disciplined Services Balloting Day is prepared based on the list submitted to GECOM by the respective Forces. Further, once it was determined who were the officers eligible to vote at LGE, the location where the officers are stationed was requested by GECOM."
"This information then allowed for GECOM in consultation with the respective Disciplined Force to establish Balloting Stations across the country and for GECOM to logistically prepare to ensure that the officers vote where they are stationed, using a ballot that is applicable to the LAA where they are registered."
GECOM was adamant that they ensured the names of the ranks were prominently displayed in balloting stations prior to the elections. Additionally, Ballot Officers visited all districts and conducted civic and voter education sessions with the officers of the respective Forces to ensure that they were well-informed about checking the lists and the voting process.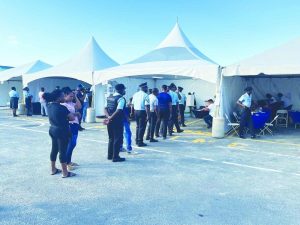 GECOM said that these measures were further supplemented with the presence of GECOM Information Clerks at all the Balloting Stations to provide guidance to the officers. They also made it clear that any rank who did not get to vote on D-Day, can still do so on polling day for the LGE come Monday. According to GECOM, to accuse it of wilfully disenfranchising members of the Disciplined Forces is a malicious act.
"Against this backdrop, for anyone to accuse GECOM of wilfully disenfranchising members of the Disciplined Forces is malicious and intended to discredit a transparent and efficient process that was evidently successful."
"The Guyana Elections Commission takes this opportunity to remind all stakeholders, especially voters that its procedures are guided by the legal provisions and reassures them that they can expect an election that is free, fair, transparent, and credible," GECOM further said.
A combined total of 9093 ranks were eligible to vote from the Guyana Police Force, Guyana Defence Force, the Guyana Fire Service and the Guyana Prison Service. After voting had concluded, the consensus had been that it was a smooth process.
The ballots cast by members of the Disciplined Forces will be sorted by local authorities and constituencies, dispatched to the respective Returning Officers, and mixed with other ballots that will be cast by civilians on June 12, 2023.
GECOM had announced that the Disciplined Services would vote on June 2, in keeping with Sections 74A and 74I of the Local Authorities (Amendment) Act. Voting for the Disciplined Services is traditionally held separately from the general population because the Disciplined Services will have their hands full ensuring law and order is maintained when the general population votes. (G-3)