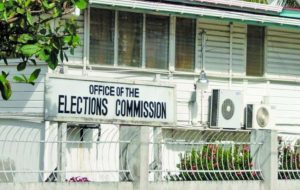 Open defiance of CCJ ruling
In clear defiance of the Caribbean Court of Justice (CCJ) recent orders for it to prepare for early elections, the Guyana Elections Commission (GECOM) is forging ahead with House-to-House Registration, which commences today.
This was confirmed by GECOM's Public Relations Officer, Yolanda Ward, in a statement on Friday. She pointed out that all eligible persons are mandated to register as it is a legal requirement.
GECOM had warned Guyanese in an ad published in the local newspapers last month that persons who refuse to participate in the House-to-House Registration will be charged and fined $16,250 or face six months jail time, as outlined in the National Registration Act – Sections 6.5, 6.6 and 6.7.
Nevertheless, Ward reminded in Friday's missive that this is a new registration exercise and, therefore, all eligible persons should be registered, even if they had done so before.
"Guyanese citizens by birth, descent, naturalisation or registration, 14 years and older by 31st October 2019 or a citizen of a Commonwealth country living in Guyana for a period of no less than one year preceding the qualifying date are all eligible for registration," the statement detailed.
GECOM went on to urge residents to have the relevant documents required for registration ready and be on the lookout for GECOM's registration officials in their area. These documents include an original birth certificate, a valid passport, naturalisation certificate, certificate of registration, adoption certificate and deed poll or marriage certificate (if applicable).
For the purpose of this exercise, each eligible person will only be registered where he/she resides. Residences include dwelling places such as homes, residential institutions such as hospices and homes for youth and the elderly.
A new National Register of Registrants Database (NRRDB) will be created upon the conclusion of the registration process and then the Official List of Electors (OLE) will be extracted to conduct the upcoming General and Regional Elections.
Previously, Ward had stated that this registration process will take some three months to complete. This means it will pass the constitutional deadline for early elections.
It was reported that GECOM's in-house attorney had advised Chief Elections Officer (CEO) Keith Lowenfield against proceeding with House-to-House Registration since it defies the CCJ orders.
In its consequential orders handed down last week, the CCJ said that GECOM is obliged to "abide by the provisions of the Constitution", which states that the Cabinet, including the President, must resign and call elections within three months upon the passage of a No-Confidence Motion.
According to CCJ President Justice Adrian Saunders those three months took effect from its June 18 ruling, validating the December passage of the motion against the coalition. This means elections should be held on or before September 18, 2019.
However, the PNC-led caretaker Government has been pushing for House-to-House Registration for a "clean" voters' list to be used in the upcoming polls, saying this is the only way credible elections can be held. The coalition claims that the current list is "padded" with persons who are not supposed to be there and that without fresh elections, young people who were never registered would be disenfranchised. Government believes too that with a new list, it will have a better outcome at the polls.
But a United Nations (UN) Needs Assessment Mission found last year that there was no need for a new voter's list. The United Nations Development Programme (UNDP) had deployed a team back in May 2018 to assess Guyana's electoral needs following a request from GECOM for technical assistance.
"It is the view of the Mission that there is no certainty that a new voters' list will have more credibility than the current list and that stakeholders will trust it more. Furthermore, any list created close to the elections will likely be criticised as political motivated," a report from the visiting team stated.
Meanwhile, the People's Progressive Party (PPP) Opposition has insisted that the concerns by the coalition can be addressed through an extended claims and objections period, as had previously confirmed by the Chief Elections Officer.
Back in February, Lowenfield had said "We can move toward the conduct… of a claims and objections exercise of a duration to be specified by the Commission so that we can arrive at a list… claims allow for the youthful to be added and objections for the deceased to be removed based on the submission made by the GRO (Guyana Register Office). Other deaths not reported to GRO, when we are in the field, people will come to us and say Jagmohan next door died and we want his name to be removed".
Moreover, the Opposition further said that new House-to-House registration would disenfranchise Guyanese students studying abroad, Guyanese working overseas and other Guyanese who may be holidaying during the period when the exercise is being done.
In fact, an overseas-based Guyanese, Bibi Zeenatoun, had filed legal proceedings in the High Court to restraining the elections commission from proceeding with House-to-House registration. The legal documents state that fresh registration will exclude qualified registrants currently on the National Register and the Official List of Electors, such as Zeenatoun, thus breaching her constitutional right to vote here.
Nevertheless, as the elections body forges ahead with the conduct of House-to-House Registration, GECOM says operational activities for the preparations of General and Regional Elections will be simultaneously undertaken.