Despite the Caribbean Court of Justice's ruling last week that he was illegally appointed, there has been no definitive word on whether Guyana Elections Commission (GECOM) Chairman, Retired Justice James Patterson has stepped down.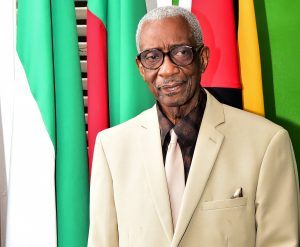 But according to CCJ President, Justice Adrian Saunders on Monday during the post-judgement hearing, GECOM, in fact, has no legal Chairman since the Court ruled on June 18 that Patterson's appointment was flawed and in breach of the Constitution.
"In relation to the GECOM case, by concluding that the procedure was flawed and in breach of the Constitution, the inexorable result unless that result is somehow stayed, is that there isn't a GECOM Chairman. And that process has to be reengaged."
Justice Saunders questioned whether elections could be carried out in three months, without a GECOM Chairman.
In answer, Trinidadian Senior Counsel Douglas Mendes, who appeared in the courtroom on behalf of Opposition Leader Bharrat Jagdeo, said that it could.
The issue, Mendes noted, was the voters' list and the process that would have to be used to update it. But when it comes to the GECOM Chairman, Mendes suggested that a strict timeline of seven days be ordered by the CCJ to ensure a Chairman is appointed without the protracted delays that accompanied the previous appointment.
He suggested that President David Granger work together with his client to come up with a list of candidates "not unacceptable" to the President, to ensure a GECOM Chairman is appointed quickly to replace Retired Justice Patterson.
"In relation to that, we're proposing that the order be that the appointment be quashed and then we're going to ask the Court to assist the parties by fixing a timetable during which they are to communicate with each other, not excluding face-to-face meetings, to agree on a list of six persons not unacceptable to the President. We were suggesting a period of seven days," Mendes said.
He noted that once a list is provided, the President could then be given three days within which to choose his Chairman. Questioned about Patterson's continued presence at GECOM, Attorney General Basil Williams confirmed that by virtue of the ruling, Patterson was, in fact, no longer the GECOM Chairman.
"Well, I am sure that question would be addressed when the time comes, but you know the decision of the Court is that the appointment was void abinicio so in effect there is no Chairman," he said.
$724M and counting
Meanwhile, proceedings at the CCJ took an interesting turn when it was revealed by GECOM lawyer Stanley Marcus that close to a billion has already been spent by GECOM on House-to-House Registration preparations.
"From my consultations, GECOM has engaged over 9000 persons in the field on the operation and has already spent $724 million on the operation. And any other process is going to be longer than the operation in progress," Marcus told the court.
Registration is catered for under section 6 of the National Registration Act, Cap 19:08, with the intent of having those 14 and over included on the National Register of Registrants. But on August 4, 2005, then President Bharrat Jagdeo assented to amendments of the Act by including provisions for Continuous Registration.
These amendments were in keeping with an international push away from House-to-House registration and towards Continuous Registration as the more effective method of registering voters.
According to Section 6 (A) of the Amendments, "the Elections Commission shall use the official list of electors from the 2001 General and Regional Elections as the base to commence continuing registration."
This meant that persons not on the 2001 Official List of Electors were legally required to visit registration offices in their respective registration areas to apply to be included on the list (though it is understood that GECOM officers flex by visiting the homes of those who are disabled). The same held true for the next (and last) time House-to-House Registration would be done, which was in 2008.
The Opposition has consistently argued that House-to-House Registration was nothing more than a delaying ploy and has noted that Claims and Objections are the way to go.