…says Region 4 recount being starved of resources to cause delay
The Guyana Elections Commission's (GECOM) decision not to add extra workstations to the Region Four (Demerara-Mahaica) recount is an inexplicable one, that Opposition Leader Bharrat Jagdeo believes played right into the hand of APNU/AFC agents intent on delaying the recount.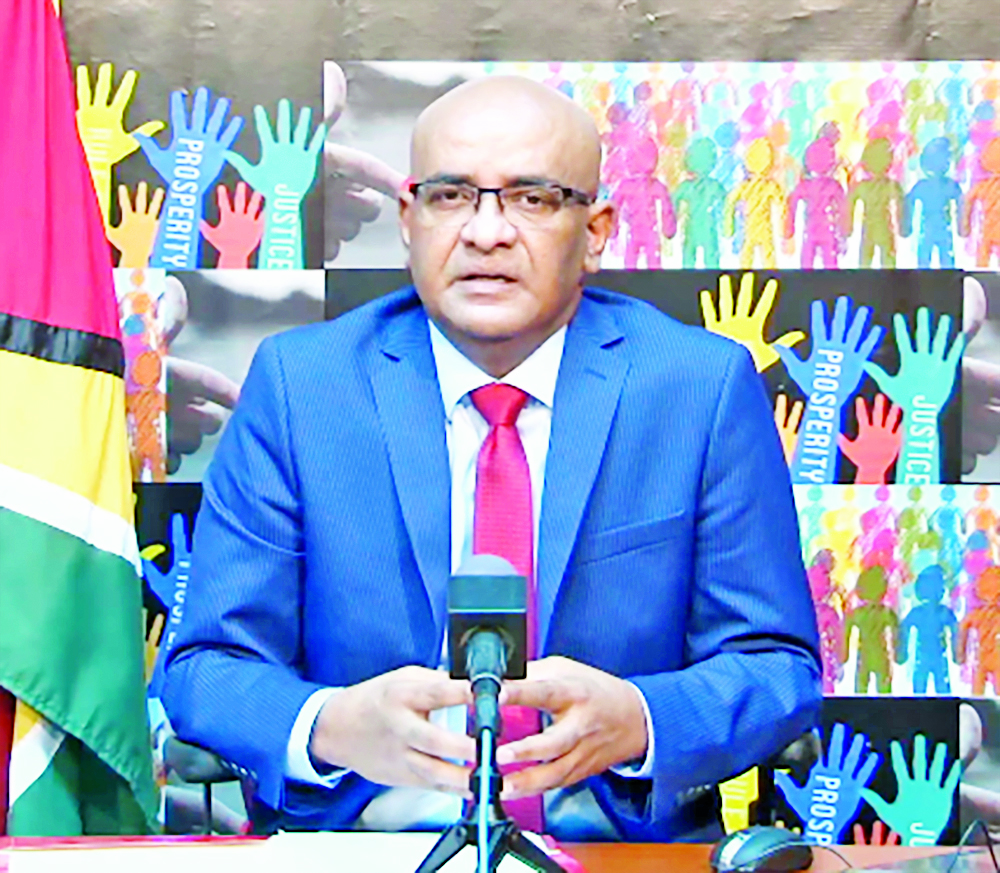 Jagdeo expressed this view during a virtual press conference on Tuesday. He pointed out the fact that Region Four, the largest electoral district by far, still has a large number of ballot boxes to count. However, it only has three workstations.
Despite this, GECOM Chairperson, Retired Justice Claudette Singh strangely decided to add extra workstations to other regions with far less ballots to recount.
"We thought that the additional two working stations that they put in place today, would be assigned to Region Four. But for some strange, inexplicable reason, the Chair decided she would assign one to Region Six and one to Region Seven. So she's opened up a new region, when the idea was to consolidate."
According to Jagdeo, the completion of recounts in Region One and Two show that the figures match the declarations of the Returning Officers almost perfectly. He noted that there were never any major issues with counting in any other region except Region Four.
"Region Six, with just half the number of boxes remaining for Region Four, has three workstations and Region Four, with double the number of boxes, also has three workstations."
"Over 40 per cent of the boxes not counted as yet, are from Region Four. So you would assume that about 40 per cent of the resources would be put towards the recount in Region Four. But they are continuing with three workstations."
Jagdeo described it as part of A Partnership for National Unity/Alliance For Change's (APNU/AFC) plot to slow down the recount in Region Four.
"That's why we're watching it closely, to see if there is no sinister plan, after the other regions have been counted and declared, that they want to create some shenanigans or try to tamper with Region Four."
Jagdeo's view is similar to that expressed by GECOM Commissioner Sase Gunraj. Speaking with reporters at the conclusion of day 13 of the recount exercise, Gunraj used the occasion to remind that Region One (Barima-Waini) was completed on Friday which led to the beginning of Region Six (East Berbice-Corentyne) and with the completion of Region Two (Pomeroon-Supenaam) on Monday.
As announced by the GECOM Public Relations Officer, Yolanda Ward, one of the new counting stations would be assigned to Region Six while the other would be assigned to Region Seven (Cuyuni-Mazaruni).
According to Gunraj, this would mean that three stations would be addressing Region Six and a singular station to recount the ballots for Region Seven.
He noted too that even more worrying is that of the remaining 1700+ ballot boxes to be counted, in excess of 700 are from Region Four (Demerara-Mahaica) but the Secretariat maintains the three counting stations for that region.
According to Gunraj, the combined number of ballot boxes for the Regions Seven, Eight (Potaro-Siparuni) and Nine (Upper Takatu-Upper Essequibo) did not amount to more than 725.
He was adamant that it would have made more practical and logistical sense to have the new counting stations assigned to the ballot boxes for Region Four.
At the end of Tuesday, GECOM had counted a total of 76 boxes. This includes 14 from Region Four, 18 from Regions Three, Five and Six and eight from Region Seven.