…confirms many to be excluded from observing process at a given time
The Guyana Elections Commission (GECOM) is still to decide on the type of face mask to be used during the proposed recount of the March 2 ballots cast, and it has not heard from the Caribbean Community (Caricom) on the arrival of its high-level team which was invited to validate the process.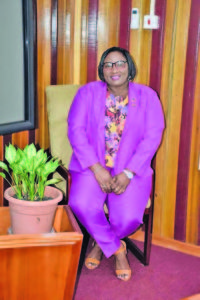 These were among the disclosures made by GECOM Public Relations Officer (PRO) Yolanda Ward on Thursday, when she provided an update on the Commission's preparations for the proposed recount exercise.
Recount Simulation
The GECOM Secretariat was at the time staging a simulation/training exercise involving the staff to be used in the recount, inclusive of Returning Officers, at the Arthur Chung Convention Centre (ACCC).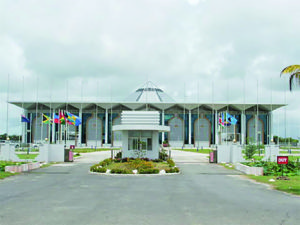 Detailing the Secretariat's action in preparation for the recount, Ward told media operatives that some 80 personnel had taken part in the one-day exercise.
She said that while only 40 persons from GECOM would be allowed in the vicinity of the counting stations at any given time, it is the intention of the Commission to have the staff work on alternate days, hence the need to train persons for the exercise.
According to Ward, "The intent, in keeping with the Coronavirus Disease (COVID-19) guidelines, is not to have the staff work every day, but on a rotational basis, and also to have staff on standby to ensure that we don't have any slippage or pause in the process."
She said, "The process this (Thursday) morning is basically to go through the methodology that has been developed for the recount, to apprise the staff of the procedure that it entails and actually to give them a walk through as to their respective stations that they will be at."
Task Force Report
Asked specifically about the use of face masks and the need for them to be changed every thirty to sixty minutes by those involved in the recount, as dictated by the Nagamootoo-chaired task force, Ward said, "While that has been indicated in the taskforce report, what they did not specify is the type of mask to be used."
She suggested, "This is something that the Commission will (investigate)", and reminded that "the use of masks will be in effect" for the recount process.
According to Ward, the frequency with which the masks are required to be changed is something that the Commission will be having further deliberations on.
Ward also confirmed that following the guidelines of the National COVID-19 Taskforce, it is likely that the process would exclude some key stakeholders, since they would at times be excluded from the vicinity of the counting station.
She reminded that the recount is being conducted under the guidelines set out by the Moses Nagamootoo-chaired taskforce, and that four GECOM personnel, including a supervisor, would have to be present at each of the ten counting stations to be used.
Restrictions
With the total number allowed to be present at each station restricted to 14 persons at eight of the proposed stations, and 10 at the other two, this would leave six spaces free at one station and four at the other two, to accommodate other key stakeholders.
These involve the high-level delegation that has been invited from CARICOM, in addition to the other international and local observers and, importantly, the 10 political parties that contested the March 2 polls.
Ward disclosed, too, that the Secretariat is still to finalise how it intends to address the malaise, and that the stakeholders could likely work out an agreement between themselves.
According to the GECOM Public Relations Officer, the Commission is also to decide on those observers and their presence at the workstations.
She said, "We haven't decided on — in terms of the local and foreign observers — what we know the law speaks to those that must be present at the count, in particular party agents."
According to Ward, "There will have to be a methodology to be worked out in terms of a number of local and international observers and all of those that would be present at the workstation, considering that we have to implement a process where they are just 14 persons at 10 of those workstations, and ten at two of those workstations."
Methodology
She suggested, "Among the groups, we will have to find a methodology, or between themselves, as to how we would be able to accommodate all those persons required to be at the count while at the same time observing the COVID guidelines."
Expanding on the specific process to be used for the recount, Ward said that this would be in keeping "with what the law prescribes" and that staffers would be recording key information even before the actual recount of ballots can begin.
"The procedural things that would have to be noted," she said, but declined to give further details, save to say, "…we have to follow that legal methodology."
Asked to pronounce on the matter of the proposed live streamed broadcasts of the process being requested by the Private Sector Commission in light of a similar request being voted down by the Commission, Warde said she was unaware of the PSC's proposal.
She noted, further, that the issue of live streaming the activity had already been voted on at the Commission level, "and that motion was voted against."
Asked to give an update on the expected arrival of the high-level CARICOM delegation that was supposed to have landed in Guyana yesterday, according to a previous announcement made by the Nagamootoo-chaired Taskforce, Ward told reporters, "We haven't received any communication as it relates to the date (and) who are the team members, we have not received any communication."