…demands credible conclusion for Guyana to remain a democracy
As deliberate attempts continue to further delay the declaration of a final results of the March 2 elections, calls are mounting once again for the Guyana Elections Commission (GECOM) to remove those persons who are hindering the conclusion of the democratic process.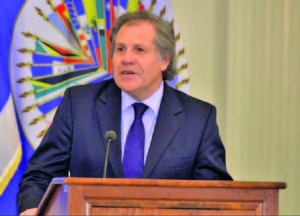 This call was reiterated by the Organisation of American States (OAS) in a statement on Friday night.
"The OAS notes that one of the principal obstacles to completing Guyana's current electoral process is a person whose duty it is to defend Guyana's democracy through ensuring respect for the results of elections. As already suggested in our April 15 press statement on the national recount, GECOM should exclude from the current electoral process, and indeed from all future electoral processes, those persons whose actions display clear partisan bias, and who apply this bias unreservedly in hindering the natural unfolding of the democratic process in Guyana," the hemispheric body stated.
This statement comes on the heels of embattled Chief Elections Officer (CEO) Keith Lowenfield failing to submit his final elections report to GECOM. He was directed by the GECOM Chair, Justice Claudette Singh, to prepare and submit the report by 14:00h on Friday, but instead of complying, he wrote the GECOM Chair asking for clarity on her instructions.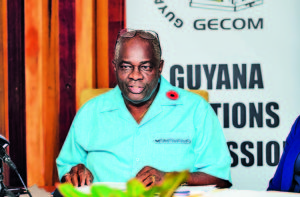 In response, however, Justice Singh indicated that her Thursday letter still stands, and that the CEO has until 11:00h today to submit his report.
Initially, the seven-member Elections Commission was scheduled to meet on Thursday, following Wednesday's ruling of the Caribbean Court of Justice (CCJ) which invalidated Guyana's Court of Appeal decision as well as the fraudulent report submitted by Lowenfield, in which he dumped over 115,000 votes.
That meeting had to be postponed to Friday after the three Government-nominated commissioners at GECOM requested time to "study" the CCJ ruling – a move which has been described as a delaying tactic by many.
According to the OAS, these developments over the last two days suggest that efforts continue to avoid compliance with these obligations and to further prolong the term of the current caretaker Government, the APNU/AFC Coalition.
The Organisation reminded of its June 23 missive in which it encouraged the Guyana Elections Commission to move forward in concluding Guyana's electoral process based on the results of the National Recount, and in accordance with the will of the majority of the electorate.
"The OAS notes and commends the instructions of the GECOM Chair, Justice Claudette Singh (ret'd), issued on July 9 and reiterated on July 10, that the Chief Elections Officer should prepare and submit his report using the results generated by the National Recount. A credible conclusion of the 2020 elections is essential if Guyana is to remain a democracy. The OAS will continue to support the efforts of the people of Guyana towards this end," the statement on Friday further detailed.
Moreover, the OAS noted that the decision of the CCJ confirmed that GECOM has the final authority to declare these elections, and that the Chief Elections Officer is required to comply with the Commission's directives in this regard.
The Trinidad-based court, in its ruling, which was delivered by President Justice Adrian Saunders, had stated, "It is for GECOM to ensure that the CEO submits a report in accordance with his directives of 16th of June in order to proceed along the path directed by the laws of Guyana."
This refers to the instructions issued by GECOM Chair in a letter dated June 16, for Lowenfield to submit his final elections report using the figures from the National Recount.
The 33-day exercise confirmed that the People's Progressive Party/Civic (PPP/C) won the March 2 elections with 233,336 votes, while the caretaker APNU/AFC Coalition obtained 217,920 votes – a difference of 15,416 votes.
However, before the CEO could have presented his report, the Elsyn David matter was filed in the Appeal Court. But one day after that court's ruling, which was stayed for three days, Lowenfield went ahead and submitted his report in which he disenfranchised over 115,000 voters, to give the APNU/AFC a win with 171,825 votes while the People's Progressive Party/Civic (PPP/C) was given 166,343 votes.
Now that the CCJ has invalidated that report, the CEO has been instructed for a second time in two days to present his final elections report using the results from the National Recount.
Meanwhile, on Friday morning, the OAS changed Chairmanship of the Summit of the Americas. The United States, which will host the 9th Summit of the Americas in 2021, took over from Peru as Chair of the process during a virtual ceremony.
The new Chair of the Process, Acting Assistant Secretary for the U.S. Department of State's Bureau of Western Hemisphere Affairs, Ambassador Michael Kozak, committed his country's continued work with the OAS in defense of democracy in the hemisphere.
"Through the Summit of the Americas, we can work together to address the region's shared challenges and opportunities and advance freedom, prosperity and security of our hemisphere. We look forward to continue collaborating with the Organization of American States to maintain collective defence of democracy as a top priority for the hemisphere," Ambassador Kozak stated.
This US State Department official has been vocal on Guyana's protracted electoral process, tweeting on Wednesday after the CCJ's ruling that, "It's time for #GECOM to declare the winner of Guyana's elections based on the national vote recount. The will of Guyana's voters cannot be ignored."