CWI Women's T20 Blaze…
Story and photos by Brandon Corlette
A polished bowling performance by the Berbicians Erva Giddings, Sheneta Grimmond and Plaffiana Millington, who grabbed three-wicket hauls of their own, steered Guyana to a 23-run win over the Leeward Islands. Batting first, Guyana scored 146-7 in 20 overs, Shemaine Campbelle top-scoring with 31. In reply Leeward Islands showed some effort, but were eventually bowled out for 123 in 20 overs.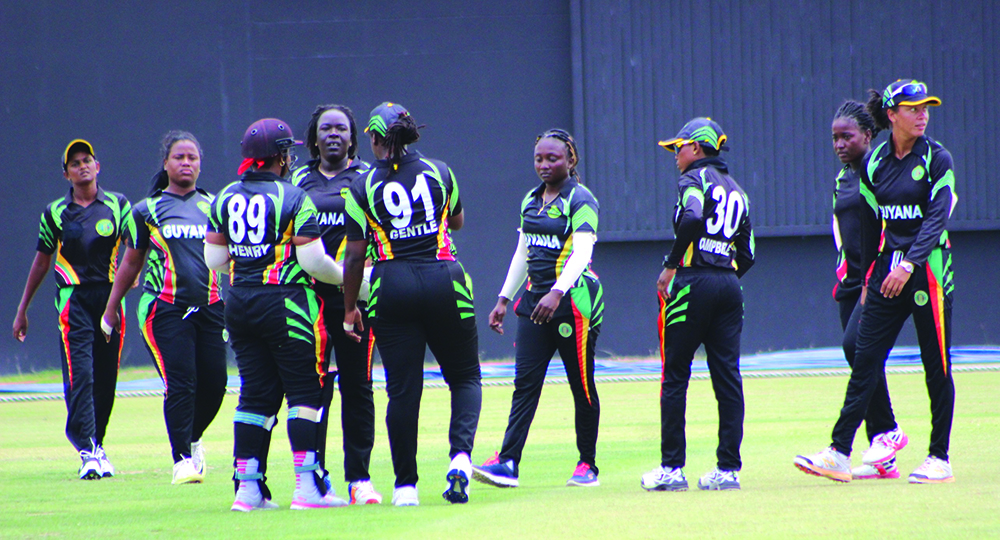 Guyana's captain, Shemaine Campbelle, won the toss and opted to bat first in the second round at the National Stadium, Providence. The Guyanese openers Sheneta Grimmond and Tremayne Smartt managed only 16 runs together for the first wicket stand, before Grimmond was dismissed by Melica Clarke for 13 from 9 balls, inclusive of two boundaries.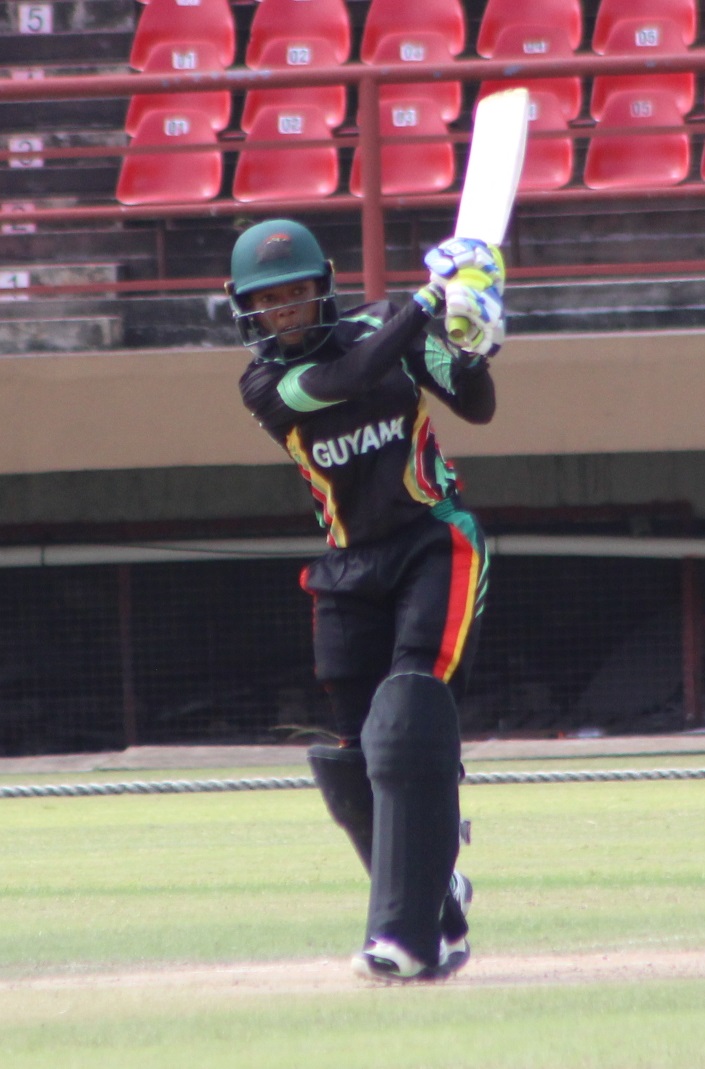 The ever-consistent Shemaine Campbelle partnered Smartt, and the Berbician duo added 39 runs in the second wicket partnership. Smartt, who opened the batting for Windies Women and Guyana on previous occasions, fell in the eighth over for a well-organised 20 from 24 balls, hitting three fours in the process.
Two of the best batters in the Guyana team, Campbelle and Shabika Gajnabi, joined forces and added 44 valuable runs before Campbelle's innings ended when she was out caught in the deep playing a pull-shot for a run-a-ball 31, inclusive of two fours.
Gajnabi was again run out, for 13 from 17 balls. Akaze Thompson (08) continued her failures with the bat. Melanie Henry, who has been getting opportunity on numerous occasions, crept to 12 from 15 balls, hitting one boundary, which was a dropped chance. Giddings (08) and Cherry Ann Fraser's 15 from 10 balls saw the Guyanese finish on 146-7 in 20 overs.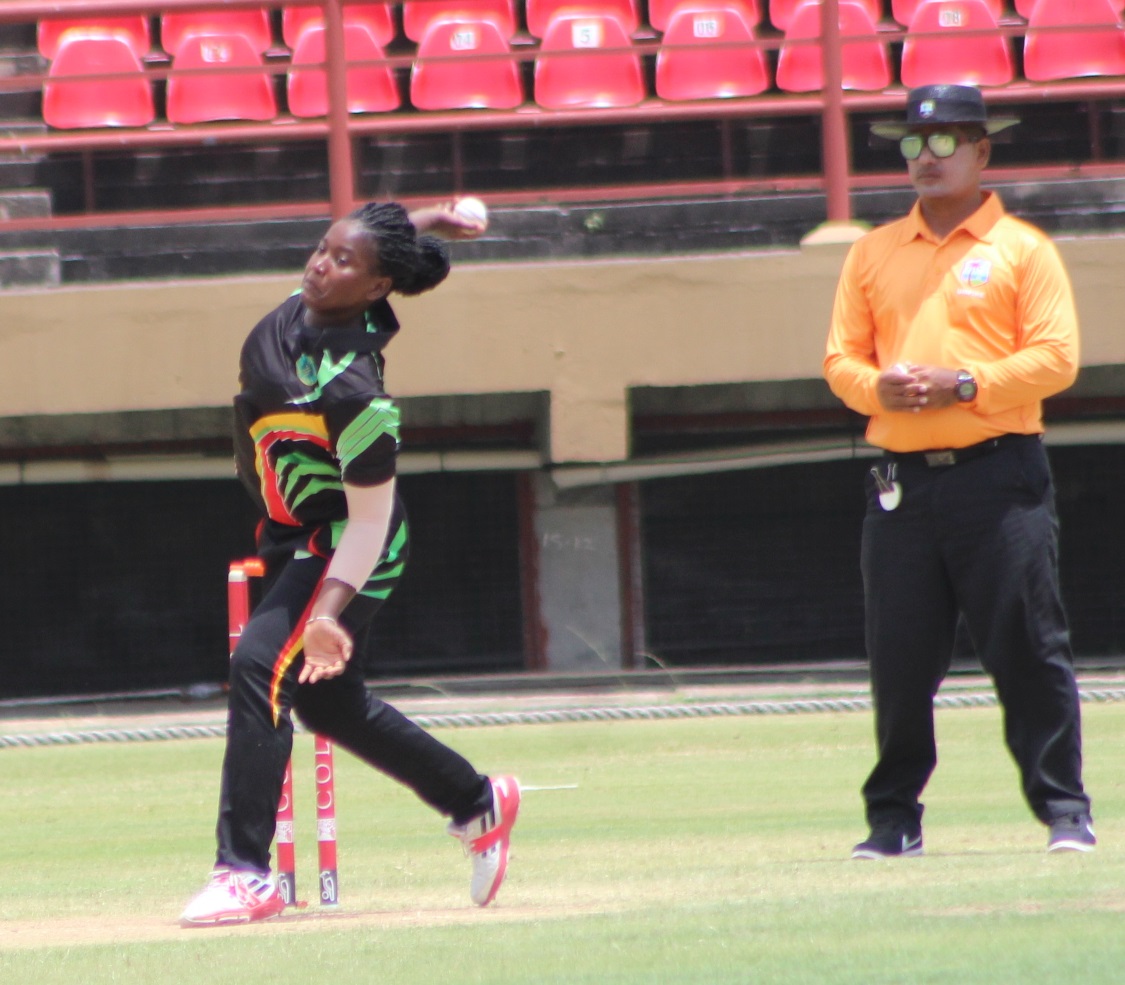 Once again, it was Shemaine Campbelle top-scoring with the bat for the Guyanese, with 31 in an incomplete batting performance. Bowling for the winless Leeward Islands, Davanna Claxton had 2-17 in two overs with her right arm medium, while Melica Clarke, Amanda Edwards, Saneldo Willet and Rozel Liburd had one wicket each.
In Leeward Islands' run chase, they were ruffled by the most consistent Guyanese bowler, Erva Giddings. The first ball bowled by Giddings beat Melissa Howard, who was bowled for a golden duck. Bowling the second over of the innings, Tremayne Smartt was lashed out of the attack when she conceded 18 runs in one over. Swanisha Hector hit three crisp fours, while Shebani Bhaskar hit one four in the fruitful over for the visitors.
Giddings continued to bowl spot on when she knocked over Leeward Islands captain Swanisha Hector for 13 from six balls. Four runs later, Giddings shattered the stumps of Saneldo Willet, as the way was cleared for the Guyanese to rattle the Leeward Islands team.
The off-spinners Plaffiana Millington and Sheneta Grimmond were introduced, and they continue to bag wickets at regular intervals. Bhaskar was out stumped off Millington by newly appointed wicket-keeper Melanie Henry. The first eight wickets for Leeward Islands fell for 39 runs, with Grimmond and Millington bowling in tandem.
An introduction of the out-of-colour Thompson saw 17 runs conceded in her over, until Grimmond removed Terez Parker for 26 from 18 balls, after she had hit five fours before being caught in the field by Campbelle. After the 38-run partnership was broken in 12.4 overs, it took the Guyanese the final ball of the innings to break the 55-run partnership between Rozel Liburd and Davanna Claxton. Mandy Mangru bowled Liburd for 41 from 34 balls, which included two fours and one six.
Bowling for Guyana, Erva Giddings had figures of 3-12 in four overs, bowling 19 dots; while off-spinners Plaffiana Millington had 3-15 bowling 14 dots, and Sheneta Grimmond had 3-19 in four overs, bowling 15 dots.
Speaking after the match, Shemaine Campbelle noted that the batters need to execute what they have been doing in training sessions.
She lauded the bowlers for their spot-on performance although Leeward Islands showed some fight in the end. Guyana will play Jamaica in the third round on Sunday March 31, 2019 from 9:00h local time.