The Guyana National Bureau of Standards (GNBS) on Friday launched its "Verification of Net Content on Pre-packaged Goods" programme to ensure that manufacturers accurately measure and label their pre-packaged products.
"The main objective of this programme is to ensure that consumers receive the correct net content of products purchased and also to ensure equity and trade," GNBS Head of Legal Metrology Shailendra Rai stated during the launch.
The GNBS describes net content as the amount of product contained in a package, as declared on labels in the form of mass, volume, or other units of measurement.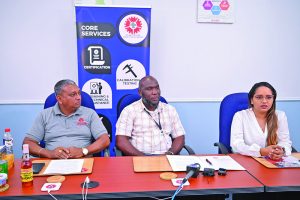 This verification programme requires manufacturers to use GNBS-approved and verified instruments, measure using only metric quantities as legally required and ensure measurements are done by trained employees.
This service, to be rolled out immediately by the Bureau's Legal Metrology Services Department, will begin with the verification of the net content of pre-packaged goods sold by mass, eventually moving to other units of measurement including volume, count, and length.
GNBS personnel will visit manufacturers' premises to facilitate corrective actions where necessary in the form of repackaging or relabelling products, the first visit being free while subsequent trips to ensure appropriate actions are taken costing $15,000 per house in addition to transportation costs for destinations out of Georgetown.
Inspectors who will be conducting these verification checks were reportedly trained by the Superintendence of Industry and Commerce (SIC) in Columbia during a four-day exercise last June.
"Once we commence this service, if there is any situation where we encounter problems where there are discrepancies in terms of the weight, an unconformity form will be issued to the manufacturer or the retailer – whoever is doing the pre-packaging – and the product will be placed on hold pending necessary corrective action," Rai explained.
If the issue can be corrected, the company will be given a timeframe to make adjustments followed by another verification check to ensure its accuracy before the product can be sold once again.
In cases where it cannot be corrected, the product may have to be confiscated or the company may have to remove it from their line.
However, Rai believes when it comes to improving measurement, it is unlikely that a discrepancy would not be fixable.
This verification programme forms part of the activities the GNBS has put forth in anticipation of World Metrology Day to be celebrated on Saturday under the theme "Measurements Supporting the Global Food System."
The organisation also held training sessions in Essequibo, Berbice, and Georgetown to educate agro-processors and manufacturers on best practices for measuring their products.