Formerly just a petty officer in the Guyana Defence Force (GDF), Leslain Baird has reaped massive benefits from his medal-worthy performance at the recently-concluded South American Games that were held from May 26 to June 8.
Battling a potential injury in Cochabamba, Colombia last week, Baird was required to persevere in order to come out successful in the javelin event.
With a previous personal best throw of 74.71 metres, Baird was determined to better his scores. Added to that, he was challenged by his superiors at the GDF to throw more than 77.5m. He was told that if he could complete that goal, he would be rewarded with a promotion. Unfortunately, he was not able to complete the feat at the Commonwealth Games held in the Gold Coast, Australia. However, he did not allow that to deter him.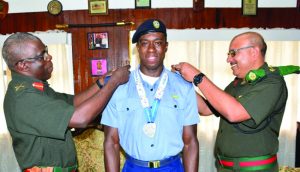 Throwing more than 70m in his first set of tries, Baird recounted that he could feel shoulder pains coming on and as such, he consulted with his coach on whether or not he should continue throwing. With the blessing of his coach, Baird made the best throw of his life – 78.65 metres, breaking the Guyanese and South American records. Although it was not his final throw, Baird could not go on owing to the injury.
Unfortunately, the South America record that was set was later broken by Arley Ibarguen of Colombia with a throw of 80.11m, landing the Guyanese athlete in the silver medal spot.
Nevertheless, Baird noted that he was thankful to the Almighty, his family, his coach, the GDF, and his athletic colleagues for their continued support.
Holding to their promise, the GDF moved to give Baird his well-deserved promotion. Shortly after Baird's arrival in Guyana, Inspector General Colonel Nazrul Hussain and Chief-of-Staff, Brigadier Patrick West presented him with his new badge of rank and his new title "Senior Petty Officer of the GDF".
Baird contends that he will continue to work harder at his discipline and has set a personal goal of touching 80m by the end of 2018.