In light of US-based chartered carrier, Dynamic International Airways, filing for bankruptcy protection to "reorganise" it business, local representative, Captain Gerry Gouveia sought to clear the air about the company's decision.
On Wednesday, the airline issued a statement saying it had filed a voluntary Chapter 11 petition with the United States Bankruptcy Court in the Middle District of North Carolina.
According to the United States Courts website, this chapter of the Bankruptcy Code generally provides for reorganisation. Chapter 11 allows a debtor to propose a plan of reorganisation to keep its business alive and pay creditors over time.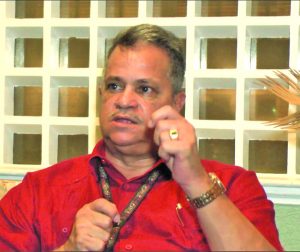 However, news of the company filing for bankruptcy has stirred much concern, especially among passengers flying the Guyana/US route, with many of them here having the view that the airline would cease its operations. This misconception drove fear into persons who already booked tickets and made payments for flight in the future.
To this end, Captain Gouveia, in an interview with Guyana Times on Thursday explained that the petition will not hinder the flight services offered by the airline.
"Dynamic actually filed for bankruptcy protection under Chapter 11 which is very different from Chapter Seven, where you stop operating and sell off your assets but that is not the case here with Dynamic International Airways," he pointed out.
On this note, Gouveia, who owns the Roraima Group of Companies in Guyana, assured that all Dynamic operations will continue uninterrupted. Dynamic Airways is currently operating five flights per week from New York to Timehri and is expected to increase these flights to daily from November.
"So the operations of Dynamic continue uninterrupted while it reschedules and reorganises their own debt servicing. But I want to make it clear to the travelling public that Dynamic is pleased to be here and will continue to be here serving the Guyanese market," the local representative noted.
Dynamic Airways said in the statement on Wednesday the decision to seek protection from the Court against its creditors was as a result of it being riddled with litigations. This includes the lawsuits from Hajj flights that Dynamic operated in 2014 for Air India and the recent arbitration award against Dynamic International by the Canadian Arbitration Association in April 2017, which determined that the US-based airline was in breach of contract by failing to pay commissions to BKP Enterprises in connection with the Hajj flights.
Dynamic added that while it has filed a notice of appeal and intends to challenge the judgment and award, it has no immediate recourse to stay the judgment but has determined the commencement of the Chapter 11 case is necessary.
"Operating under the protection of the US Bankruptcy Court will enable us to continue to serve our customers, keep our team employed and work with our vendors while we navigate through the challenges presented. Once we have completed the reorganisation process, we expect Dynamic Int'l to emerge as a stronger company with a sound financial structure that is appropriate not only for today's level of business activity, but also for the future," Chief Executive Officer Paul Kraus said in the statement.
Dynamic Int'l provides charter and contract commercial passenger air travel services to the general public and is a licensed and certificated air carrier authorised by the US Department of Transportation and the US Federal Aviation Administration.  Dynamic Int'l fleet of aircraft includes six Boeing 767s which operate international flights between United States cities and territories and foreign countries.
In its three year of operations here, Dynamic Airways has been faced with heavy criticisms with a long list of disruptions in flights which left passengers stranded for hours both at the CJIA and JFK Airport as a result of delays.