…organic farming assistance for farmers – Harmon
Thursday's 2019 Budget Debates continued with customary fiery exchanges in the National Assembly as Opposition Chief Whip Gail Teixeira berated Government's handling of the economy, outlining that business prospects are greatly reduced under the A Partnership for National Unity/Alliance For Change (APNU/AFC) Administration.
The senior Member of Parliament noted that the coalition Government has blinded its eyes to the woes of the Guyanese, as she appeared to be tired of Ministers outlining measures aimed at giving citizens a "good life".
"We have heard about this being a good life but I want to ask the Minister on a human level, do you not see what is going on in the streets? Women selling water for a living; do you see the increase in beggars and the biggest industry in your Government is selling dog food… is this the new economy that you are proposing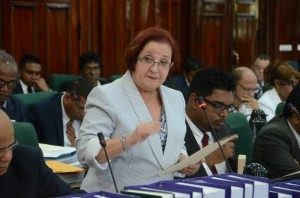 for the people," Teixeira quipped.
She wants the Administration to be aware that people are suffering.
"Do you not see that our people are suffering? Do you not hear? Have you talked to the taxi and minibus drivers, the boats operators who are talking about the lack of business? Have you asked the business people what is happening? You go to barbers, nail technicians – do you not notice that they are earning less? The vendors, you move them… 400 people, a lot of them are women… ask the miners what is happening with them… you admitted it in the budget that gold is now going down… you need to change your policies!" the Chief Whip declared.
She in fact called Finance Minister Winston Jordan's budget 'naked with nothing for the people of Guyana' as she questioned the benefits of this and the prior three budgets presented by the APNU/AFC coalition Government that have collectively amounted to almost $1 trillion.
She was sure that even though the Guyanese people are suffering, the Government's main concern since it took office has been for "vengeance" against the People's Progressive Party/Civic (PPP/C). Teixeira also questioned if the country has truly benefited from the various budgets.
"Where is the proof of the pudding? Where are the transformations? Where is it that we can say that we are going forward? The Ministers have also been hard of ears to what has been said not only by us who have been pointing out problems, but also by the trade unions… you have come into this House with this bullyism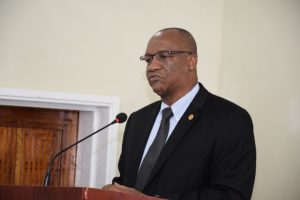 that nobody counts except you!" the Chief Whip exclaimed.
Teixeira also chastised the Government, accusing it of never wanting to build national unity among the people of Guyana. Speaking on taxation, Teixeira questioned the cost of fuel, adding that it is still to be reduced even though the price decreased globally. She further observed that calculations show each Guyanese citizen in 2018 paid $265,000 to the Government per capita in taxes.
As a result of this, the MP revealed that spending power is expected to reduce by a whopping 18 per cent.
"Let's talk about purchasing power, what drives the economy is people's ability to spend… they are stimulating the economy so that people have more to spend and so Mr Speaker, in 2019 the total spending is expected to reduce by 18 per cent… that is $462,000 per household in Guyana. Do you understand when we say that this cannot be the good life? People have to buy children's supplies… they need to take care of their families… people will now be spending less" Teixeira revealed.
She also questioned the $30 billion Guyana Sugar Corporation loan which was not reflected in the budget and the US$18 million signing bonus from United States oil company, ExxonMobil which was not paid over into the Consolidated Fund.
"You have lost a golden opportunity to present a better budget… this budget will not improve the lives of our people… this Government is on borrowed time… thanks to this budget, we will get into Government  in 2020," Teixeira  declared.
Government wants green agenda support
Her previous speaker, Minister of State Joseph Harmon, saw things quite differently from the Opposition Chief Whip, telling the House that Government's Green State Development Strategy (GSDS) was much broader than what was offered in the previous Government's Low Carbon Development Strategy (LCDS). He even invited the Opposition to come on board and join Government's green agenda.
Harmon added that there were inconsistencies in the budget proposals of the Opposition, perhaps because the Budget was "so good". He even said Government's vision for Guyana is difficult to see for those who "don't have 20/20 vision.
Speaking on plans for 2019, the senior Minister told the House that agriculture producers will be assisted with projects such as organic farming. Another plan for the State is smart classrooms which will connect schools all over the country. Harmon added that strategies such as those for poverty production, social cohesion and culture policies will be enhanced.