A pregnant woman was among 14 persons beaten after four masked gunmen attacked and robbed a supermarket on the East Coast of Berbice (ECB) on Wednesday evening.
Reports are the armed men came from the backlands and stole two bicycles before riding to Arjune Mahadeo Business Enterprise located at Lot 37 Number 19 Village, ECB.
At the time of the attack, several customers were inside the supermarket.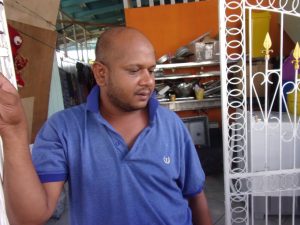 Nineteen-year-old Vishnu Seeram who was at the time performing duties at the supermarket was outside when the men executed the brazen attack.
He explained that initially, he thought it was a prank by villagers. According to Seeram, two men appeared at the business establishment on bicycles.
"I thought it was a laugh joke thing like, but then I see that they serious and pull out guns and start pull in my friends in the shop… I try to run at the side but one of them come behind me and he lash me with a crowbar and tell me that is bandit and he pull me in the shop. When I go in the shop, I see everybody lie down."
Seeram said he later heard his mother screaming from the upper flat of the building. As the men entered the supermarket, the owner Dewan Ramdeo 33, and his daughter, 14, were attending to customers while a close relative who is visiting from the United States, was in the upper flat.
The woman's 16-year-old daughter was also assisting in the supermarket.
Ramdeo told Guyana Times that the first bandit to enter the establishment ordered everyone to lie on the ground. He was carrying a firearm and his face was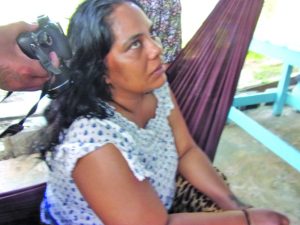 covered.
Ramdeo recalled that several customers were kicked in their faces as they attempted to get a glimpse of what was happening.
"So you can't watch up and see but what I know is that the one that come in first had on mask and he had on a cap and mask. I see one in the row with me and one in another row with some customers an I aint see none of dem by the gate," he related.
The men ransacked the supermarket, taking two cellphones from customers along with their jewellery. They also removed $650,000 in cash; $50,000 in phone cards and food items from the shelves and refrigerators.
While this was happening, Ramdeo realised that there was an opening for him to escape.
"So I get up and try to run but one of dem hold onto my shirt and he pelt a lash with the cutlass and it catch me behind my neck but I still try to run and the shirt tear so I run out."
In relating the ordeal, the businessman said two of the bandits came running after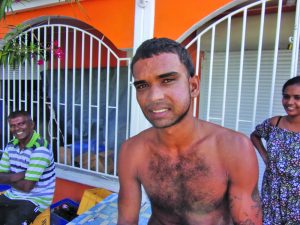 him. As he reached the street, a neighbour was on his way to the supermarket but the businessman alerted him.
The resident made a run for it but one of the two bandits went pursued him while the other continued in pursuit of Ramdeo.
"I reach by my neighbour and she went in front on the bridge and I tell she bring the cutlass but I still running and run pass she and she and the bandit come face to face and he give she two lash with the cutlass and take way she phone…"
Meanwhile, one of the bandits went to the upper flat of the building that housed the supermarket where he confronted Shamwattie Inderjeet, 39, who has been in Guyana for one week.
The pregnant woman related that the masked man carrying a cutlass entered the room and started to assault her.
"Just as I go to get up, he gave me one cutlass lash across my head and I fall over the bed…I get up to run to the washroom and he give me another cutlass lash."
The woman said she felt blood running down her neck. She was stripped naked and pulled away from the bathroom by her hair. She said she was kicked and
beaten by the armed man.
"I start asking him why you beating me, why? I din know is who because he never say that he is a bandit, then he give me one more broadside with the cutlass and tell me that he come for the money and he want all the money."
The woman related that she was beaten until she showed them where she kept her valuables. She said she was able to escape and hide in the house until he left. The pregnant woman was later rushed to the New Amsterdam Hospital where she was treated.
Upon her return, she discovered that US$1000 was missing from her bag along with jewellery valued at $315,000, along with GY$15,000 and a cellular phone.
However, her passport and those belonging to her children, were intact.
Nevertheless, Ramdeo, the owner of the property, said he was able to get villagers to use empty beverage bottles as missiles to hurl at one of the bandits who was standing guard. He then called out the others.
Shots were then fired at the missile throwing gang but the residents took cover behind a lorry as the bandits fled the scene.
Police reportedly arrived at the scene 10 minutes later and launched an investigation. This is the third time in the past seven years that bandits have attacked and robbed the owner of the supermarket. (Andrew Carmichael)