The shortage of skilled professionals at the Foreign Affairs Ministry continues to pose major challenges in the operations both locally and in the international arena.
This is according to the Foreign Secretary at that Ministry, Carl Greenidge.
On Thursday while responding to questions from the media, he stated that the shortages occur in specific, critical areas, which are evident during Guyana's participation at debates at the United Nations (UN), Forum of the Caribbean Group of African, Caribbean and Pacific (ACP) States (CARIFORUM) and other international events.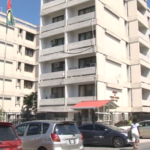 "This would be in strategic issues, political science, economics, international law, environmental sciences, and a variety of these technical areas…It is a range of skills and the point I have been making for a long time is that the intake of skills into the Ministry, as governed by the Public Service Commission and the Public Service Ministry, it is overwhelmingly of people…with degrees in international relations. That is one area, or skills needed by the Ministry, and for reasons that I don't want to go into now we have been struggling to combat those skills."
He pointed out that another challenge in getting the desired staff is the language barrier or the lack of persons versed/skilled with a foreign language outside of English.
The last batch of professionals hired by the Foreign Affairs Ministry consisted of 18 individuals, but only one person had a language capacity, he noted.
According to Greenidge, the problem is evident that there is an acute shortage of 'supporting administrative skills' and this, in reality, has a direct effect on the diplomatic work of the Ministry.
"Whether those skills are now in abundance, the answer is no. The economy, in general, is challenged by a shortage of skills and in this particular area you would find that it would take some years to flourish that especially if you lose people that have those skills already," he added.
In recent times, when Greenidge served as Foreign Affairs Minister, he had noted that the shortage of staff at that Ministry was a thorn in the side for the smooth and effective functioning of the Administration.
"We've tried to recruit a range of skills, knowledgeable and experienced in the arena relevant to the issues of sovereignty. Analytical skills, diplomatic experience, language skills and the like …we've tried to recruit and to put in the units that deal with these areas, whether in GT or abroad," he had said.
But despite the recruitment of specifically skilled persons, he had stated that inevitably this process has to be a continuing exercise of recruitment.
"In all the other aspects pertaining to security, we recruited skills looking at mapping, worked with technicians looking at the maritime space, the area above the land and sea for purposes of our protection," he also had said while admitting that there is need for persons who are skilled in a multiplicity of areas.